Cindrella:
A ground breaking venture: Poised to redefine the cinematic landscape
Following a long silence of eight years since her début film Sulang Kirilli (Wind Bird) which won the highest scores of international awards at prestigious film festivals, Enokaa Sathyangani Keerthinanda re-enters the landscape of Sinhala cinema with her latest cinematic adventure Cindrella.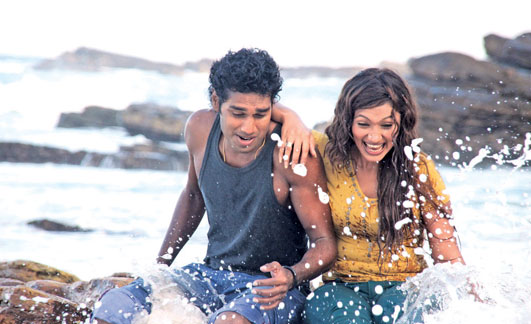 Venturing out of her traditional turf of alternative cinema, Enokaa steps into the commercial cinema determined to change the dynamics of the country's fragile commercial industry and to infuse it with much -needed glamour, Sri Lankan signature. A significant characteristic of Cindrella is that it has not derived its form and structure unlike many commercial productions from typical masala formula of North and South Indian films.
Here is an excerpt of a wide-ranging interview the filmmaker Enokaa Sathyangani had with Montage on Sri Lankan cinema in general and her latest venture Cindrella in particular.
Question: After a lapse of many years, now, you have re-entered Sri Lankan cinema with your latest venture Cindrella , a romance which is a significant departure from your genre of alternative cinema like your debut Sulang Kirilli. How do you thematises Cindrella against the backdrop of culture of cheap romances in Sinhala cinema?
Answer: Yes, you are correct. In my first creation Sulanga Kirilli (The Wind Bird) I was introduced not only to local fans but also to international audience as an alternative filmmaker. I was appreciated and awarded as an alternative filmmaker too.
Award
For instance, I can cite two examples; one is that I won the best debut director's award at the Cinematica Del Uruguaya film festival in Latin America which is considered as a film festival which focused mainly on the "Third Cinema" that had introduced seminal filmmakers such as Abbas Kiarostami, Aleksandr Sokurov, Theo Angelopoulos.
And the second is that my film was conferred the best award for cinematography at the New York International Independent Film Festival, which is one of the major film festivals for independent filmmakers, for Sulang Kirilli. And it was the very first technical award which any Sri Lankan film technician won from an International film festival in the history of Sri Lankan cinema.
Against such a backdrop, my selection of a common theme such as romance for my newest creation would make the majority surprise and I would say, rather a shock. That may be due to my image in their minds as a filmmaker. But I am a filmmaker who would like to make creations on diverse genres and with different dimensions as it would enable me to venture into different areas and gather multiplicity of experiences which would inevitably throw out certain challenges.
Diverse genres
The fact that I am an ardent fan of filmmakers of international repute such as Quentin Tarantino, Steven Soderbergh who make films on diverse genres, would also encourage me to venture into this area.
Dealing with the latter part of your question that how would I make my signature through Cindrella particularly at a time when scores of cheap romances are being made, I would like to refrain myself from answering at this stage when I have already edited almost all of the film and it has not been seen anyone other than my editor and few others up to now.
Love as a commodity
If I answer your question not only as a filmmaker but also as a fan, I could provide the analysis that the love we experience in life was absent in most of the Sri Lankan films with a tag of romance.
It is because they (filmmakers) manufactured the creation without aesthetically pleasing and trustworthy theme of 'love' as a commodity.
The 'love' we experience as human beings for once or many times in life is much more sensitive than what is often depicted in those so-called romantic scenes in films. In those creations have they touched the subject in the manner of "sensitive, genuine and absorbing" enough as such romance we experience or feel in real life? Therefore, the fault lies not in the subject 'romance' but in the filmmaker who recreates it.
They (some of the filmmakers) are acting as if they are marketers who wanted to market goods at a higher price by adding insensitive and untruthful items to the theme. In that sense can we say that they are honest to their creations? Then in such films, we, naturally, become strangers. Majority of us watch such 'romantic scenes and song sequencers' with the same distance as the spectators watching a circus or an acrobatic event.
But the subject of romance is much more sensitive and emotional experience which should touch our hearts.
At least, if they are sensitive to "love" which they had experienced once in life, we would be fortunate enough to watch much more realistic romances in contemporary Sinhala cinema. My attempt at, in Cindrella is not as difficult and hard as either climbing Everest or diving into the Mariana trench. In simple terms, I have been honest to the enchanting feeling of love which I experienced more or less in life. That is a novel experience like falling in love with someone afresh.
It was with that fresh feeling in mind that I wrote the script for Cindrella and directed it. Although cinema is a result of a combination of mechanical devices such as negative, projector, the zest and the liveliness in it are only the gamut of extremely natural experiences and feelings in our day-to-day life.
Themes
What we needed to do even in recreating much more complex themes such as political themes or subjects which relates to neo-scholasticism are to recreate something as truthful as the reality we experienced through our senses. As long as we are honest to us, the creation will, in turn, be honest to you. There is nothing beyond that principle.
Q: It has been noted that most of the romance in contemporary Sinhala cinema are heavily influenced by Bollywood and Kollywood which are far from being realistic in Sri Lankan context. In this context, how would Cindrella differs from romance in Sinhala cinema?
A: I believed that answer for the second question more or less contained in the answer I gave for the first question.
Therefore, I would like to venture further and beyond what I have already spoken of. Considering your examples of Bollywood and Kollywood cinema cultures, I am of the view that even beyond Hollywood or European cinema, what we can distinguish is that there are only two categories of movies and they are not categories as commercial movies or classical movies but only 'good' and 'bad' films.
As Syd Field, acclaimed as "the guru of screenwriting" had stated in his monumental book Going to Movies that there are only two categories in cinema; 'good' and 'bad' and nothing else.
Romance
If we try to describe this situation in terms of Bollywood and Kollywood cinema which is closer to us, it would be an easy attempt. Forgive me for not being an ardent fan of Bollywood or Kollywood cinema, but through my limited experiences; a film that I can recall now as aesthetically pleasing romance is Balu Mehandran's popular film Moondram Pirai which Kamal Hasan and Sri Devi did the main roles, which I watched when I was a teenager from a Video movie collection.
Again a fine example among recent films is the South Indian films, Autograph which grabbed the attention of Sri Lankan fans and film critics alike and was very popular among Indian cinema goers.
Autograph was directed by an acclaimed film director Cheran who won the filmfare and Tamil Nadu national awards.
My personal memory associates with this film; Autograph which won the award for the best debut director while I won the award for the best director for Sulang Kirilli at the Channai International Film festival of 2005.
Moreover, the fame Hindi movie Abhimaan directed by Hrishikesh Mukherjee and in which Amitabh Bachchan and Jaya Bahaduri did the main roles and the well-known movie Yash Chopra's Silsila which Reka and Darmendra acted are two aesthetically pleasing and beautifully crafted romantic films in the old Bollywood classics.
Masala formula
In recent times there are such instances as Mr. and Mrs. Iyer directed by Aparna Sen and Dil Chahta Hai directed by Farhan Akhtar can be identified as films which are outside the traditional masala formula. There are a couple of examples from Hollywood films as well. The films such as The Ghost of the 1980s and Titanic directed by James Cameron are romances which were commercially successful with highest earnings on the very day of their release.
Unfortunately, it seems that our contemporary filmmakers model their creations on North Indian and South Indian 'Masala' cinema with threadbare cinematic strategies. That is the main cause for deteriorating cinematic quality of Sri Lankan romantic cinema.
Although Titanic was produced with highly commercial motives, it won the highest number of academy awards for its outstanding cinematic quality and went into the history as the film which broke all the box office records in earnings. It is one instance where a common romance marked an important milestone in world cinema.
Enokaa Sathyanganee Keerthinanda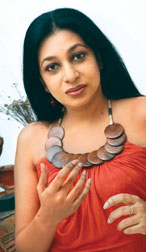 Besides being a busy filmmaker, Enokaa Sathyangani Keerthinanda, has many hats to wear. One of the important functions of her creative life is to serve as the Course Director of two-year Diploma in Film Direction conducted by Sri Lanka Television Training Institute (SLTTI), Colombo 7, under the Ministry of Mass Media and Information.
The two-year course extensively deals with myriad of vital areas such as Film history, Script writing, Cinematography, Editing, Sound, Film Production, Production designing, Film music, Art Direction, Make - up and Film Appreciation together with practical assignments.
The secret of the success of above cinematic creations which have not destroyed 'love' and will remain as great films for they were not 'duplicate' commodities.
As a viewer who has enjoyed such films, I wanted to make a film which I can whole-heartedly enjoy by myself. How can I force others to watch a film which I - myself cannot appreciate? First and foremost, I must be able to enjoy and appreciate the creation from the script stage to the final craft. I must be answerable for my own emotions, zest and in turn I will be unwittingly responsible for the emotions and zest of the audience.
Glamour
Q: At the hand of a talented filmmaker, even the genre of romance can yield layers of meanings while retaining the glamour and marketable advantage as a commercial movie. What is lacking in contemporary Sinhala romance is the enduring quality and the lasting value attributed to such films as Yahalu Yeheli, Golu Hadawatha and Ganga Addara. In strictest sense, even some of the classics such a Doctor Zhivago can be classified as a romance.
It is a fact that most of the commercial filmmakers are preoccupied with the issues of cost-recovery rather than the cinematic quality of the film. This also prompts them to seek sponsors by way of displaying the goods ranging from soft drinks to furniture and integrating those items into the plot.
How would you strike a balance between financial concerns and the artistic attributes of the film?
A: I would like to answer by dealing with the latter part of your question first.
It is my feeling that there is no connection between an artistic quality of a film and its production cost. This statement is slightly changed only with regard to historical productions and epic movies.
Other than the above instance, I firmly believe that creativity and artistic quality of a film does not depend on its cost of production. One may argue on the basis of creating a movie with international repute which cannot be made without advanced equipments would be intrinsically safe when it comes to high-tech equipments.
But if it is true that there is no doubt that the film with the highest production cost in Sri Lanka would have become the best Sri Lankan film at the international level. But fortunately or unfortunately it has not happened as yet. Some of the greatest cinematic creations which had earned the highest reputation by critics as well as the public, not only in Sri Lanka but even in the world cinema were low -budget productions with bare necessities.
Low-budget high standard productions
For instance, films such as Gamperaliya, Ahasgauva and Thunmanhandiya are such low-budget productions which grabbed the attention of the international audiences as well as won the hearts of Sri Lankan spectators.
There are two fine examples for low-budget production in world cinema that I can cite from India, are Satyajith Ray's Pather Panchali which brought the very first "Golden Palm" International award for the best picture at the Cannes International film festival in 1955 was a hastily shot low-budget production over a four year period of time. Shaji N. Karun's Piravi is one such low-budget film which won 36 international awards and put the Indian contemporary cinema into limelight.
Since I had the privilege of meeting Shaji N Karun years ago, I learnt personally from him that Piravi was made as a very low-budget production and shot under a lot of practical and production constrains.
Although the film was scheduled to be shot during a dry season, the torrential rain caused havoc to some of the scenes. Without much choice to postpone the shoot they have had to shoot the movie with heavy rains. But at the end, the 'rain' has given the movie a third dimension with a different connotation and interpretation to the texture of the film.
According to him, the fortune of Piravi winning scores of international awards was also indirectly attributed to the rainy climate which had given a gloomy mood to the movie as a whole as it deals with a theme of an old father waiting for the return of his missing son.
What is commercial cinema?
What is obvious is that an experienced filmmaker does not necessarily need to have a large amount of money and resources at his disposal to come out with an outstanding creation. One may come out with a counter argument that such a scenario does not apply to commercial cinema.
At that point any one could raise the fundamental issue of, what the commercial cinema is? Is the commercial cinema, a cinematic form with a highest cost of production? Or is it a thing which earns record breaking profits? Or is it a shallow creation which may appeal to immature senses of the masses?
We have to cite examples from cinema itself to answer such questions. I believe that we can find answers from the Sinhala cinema itself. Sumitra Peries's Ganga Addara which was not a high budget production made in the 1980s, earned the highest profits at the time. I still recall watching the film as a school girl. It won the Sarasaviya award for the best film of the year being a glamorous romantic movie, competing with an alternative film such as Paradige once which was considered by critics' choice as one of the five greatest Sri Lankan films of all times.
It provided the viewers with an aesthetically pleasing film. Ganga Addara, therefore, became an important creation which won the attention of the viewers as well as of the critics. What contributed to the creation of aesthetically pleasing film is that it would offer the viewers with a novel cinematic experience. Considering the above examples, I don't believe that the deciding factor of the success of a film is the cost of production. There are countless examples that I can cite from international cinema to support my argument.
If I deal with the first part of your question, we have to recognise that the highly acclaimed alternative filmmakers in world cinema have produced passionate romantic films. Among them Ingmar Bargman,Krzysztof Kislowski, Michael Angelo Antonioni, Stanly Kubric, Ang Lee and Sam Mendes are prominent; Ingmar Bargman's Through a Glass Darkly, Krzysztof Kislowski's A short film about love, Michael Angelo Antonioni's L'eclisse, Stanly Kubric's Eyes wide shut , Ang Lee's Broke back Mountain and Sam Mendes's American Beauty can be cited as examples.
International filmmakers
Moreover, there are internationally acclaimed filmmakers who are recognised as well-known romantic filmmakers.
Among them the veteran filmmaker Woody Allen is a prominent filmmaker who is acclaimed for romantic movies and he had won numerous international awards with many Oscar's for his movies of that genre.
Among the contemporary filmmakers, Wong Kar Wai is famous for the same genre of movies.
I was fascinated by two of his romances; In the Time of Cholera which is based on Garcia Marquez's novel of the same name and his recent movie, My Blueberry nights. Wong Kar Wai has been highly appreciated at major international film festivals such as Cannes, Venice and Tokyo film festivals for his works.
Apart from the these examples, a filmmaker such as Neil Jordan who made a controversial movie An Interview with the vampire later did a highly romantic movie The end of the Affair. It was an extremely passionate romantic film based on a poignant love story.
These filmmakers do not consider by making romances that they would ruin their reputation or detrimental to their illustrious careers in cinema as they had not caused any harm to the language of cinema. What is important for a filmmaker is not the subject that he or she deals with or the fact it is apolitical or psychological but the fact that he or she makes his or her creation according to the language of cinema infused with creativity.
Unwritten contracts with merchants
If I refer to the latter part of your question, Sri Lankan situation differs from the above, largely due to filmmakers entering into rather unwritten contracts with merchants with the intention of recovering part of the budget. Therefore, priority would be give to market the goods rather than producing an artistic creation.
In contemporary Sri Lankan romances, various goods directly or indirectly displayed from the commencement of the shooting as if the film was virtually mortgaged to the merchants in return for their sponsorship for the film. There are instances where a strategy has been mapped out to display goods at the stage of script writing for the film.
Being honest to one's own creation
This would result in weakening the artistic and aesthetic quality of the production due to priority being given to achieving financial objectives of the merchants at the expense of the language and the aesthetics of the cinema. Since the film is virtually dominated by the merchants, some creator's focus on artistic aspects of the filmmaking has been deprived of.
Although in the West and in countries such as India, the filmmakers have evidently made some sort of contracts to promote cigarette and alcohol in films, they depict them in a discipline and creative manner.
The tragedy here is that our moviemakers had given priority to commercial concerns over the artistic expression. Unfortunately, in such a scenario, what happens is that the creator himself or herself violates all the professional principals such as being honest to one's own creation.
Ultimately, the masses will have to pay the price for creator's sins. The filmgoers who purchase a ticket to watch a film, would, ultimately, watch not a 'creative piece of cinema' but a creation dominated by advertisements.
The price the viewer unwittingly paid out of his or her pocket for a craftily merchant to achieve his commercial objectives.
It is highly doubtful whether the viewer or the filmmaker is responsible for this pathetic state of affairs while the filmmaker willfully and mischievously attends to it the spectator unwillingly promotes such movies by watching them. Then this scenario becomes a cycle of action.
When I point out this factor, one would argue that everybody is being sold out in a highly consumerised society.
Yes. Though all of us licitly or illicitly being sold out, there is a way that we should be sold out at large. It is like Syd Field's classification of 'good' and 'bad' films.
I would explain it with an example from television. For instance, there is a Role up Advertisement in television which tells that one who purchases a packet of certain branded tea would get a CD of a singer (of the new generation) free of charge.
I am sure you too would have watched this advertisement and this example alone would be enough to describe what I earlier mentioned. Though we could not escape from art being commercialised in a highly consumerised society, we have a right to question how far this process is justifiable.
Intriguing
Q: The very title of the film Cindrella , is , in a way, intriguing and the casting is also radical given the fact that you have selected Akalanka Ganegama and Upeksha Swarnamali to play the lead roles in the film. Is there a symbolic value to the title Cindrella? And are there specific reasons for your selection Akalanka Ganegama and Upeksha Swarnamali for the film?
A: The title Cindrella is symbolic. If the title of a film interprets the whole idea or the theme of the movie, one need not watch it as by the name itself it expose the whole story. Then the title becomes a label such as rice, coconut or any other commodity. I firmly believe that the title of a creation should also be creative without it being a label.
The only reason why I went for a newcomer for the main role of Cindrella is that the very soul of the film is being exposed through the main character where Akalanka Ganegama plays. The narration of the film is presented through his perspective.
Because of this fact, I made up my mind at the script stage that the character should go to a newcomer. I believed that if I did not employe a newcomer for the character, the popular screen image of an established actor would tarnish the authenticity of the image and overrule the simplicity of the role.
Langauge
When the popular cricketer Akalanka Ganegama who won the award for the best dancer in a popular reality show I clearly observed his body language and similar personality to Chandula Meegaswatte, the lead role in Cindrella. That is the only factor which led me to select Akalanka Ganegama for the very role in Cindrella.
Following the initial discussions and rehearsals on method acting for about 6 months period of time, two or three days for a week and 6-7 hours at a stretch, we exchanged our ideas through a series of workshops and discussions. I showed him a large number of films from the world cinema where there are similar characters such as that of Chandula.
Thereafter, I discussed with him intensively about the subtle behavioural patterns of such characters; identification of a character, internal and external traits of such characters and how such characters interact with other characters and behaviour in a given situation under different circumstances.
In simple terms, I have given him an in-depth character analysis. I believed as a result of intensive briefing and studying the character, Akalanka was able to fit well into the character on the set and was able to perform his role naturally.
Style
I selected popular teledrama actress Upeksha Swarnamali for the lead female role considering her matching physical attributes to the main female role in Cindrella. Though I did not give her an extensive briefing as I did for Akalanka, I showed her a couple of foreign films and discussed extensively about how to act naturally.
I discussed how to approach the character, to live in it, the mentalities and states of mind of that character on a pretext to take her up to the level I wanted. I requested her not to try to over perform the role particularly given the fact that she has already developed her own style of acting and as it would supersede the character traits of Isanka by emerging Upeksha the actor.
I was so keen about that factor as it could have been caused more damagers at the hand of an experienced actor such as Upeksha unlike an armature actress who plays the same role with less experience. Because of the natural flavour of any character should come out within the character effortlessly. If the actress tries to mold the character from the surface, it automatically becomes a fake.Therefore, I let her to familiarise with the character naturally rather than going into forcible attempts to push her into the character.
On the set, I enacted each and every scene over and over again until I was completely satisfied with the performance. One of the advantages was that we did not use negatives. I admit that there were some instances where actors (professional actors with experience) were quite tired of the performances. But what I wanted was not to finish off the scene on the set easily under the impression that 'everybody parted happily'. Looking back on, I can satisfy that I derived the scenes I wanted despite the hardships and difficult situation I encountered in the process.
(To be continued)