Aeronautical degree in the pipeline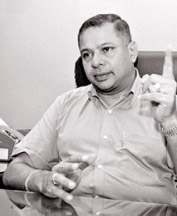 The Civil Aviation Ministry is exploring the possibility of introducing a Civil Aviation Degree to cater to the vast demand in the aviation sector for aeronautical engineers and other skilled technicians.
The country's civil aviation sector has shown a dramatic improvement due to moves taken by the Government to develop the sector to suit the modern day needs.
As a result, a huge demand has been made to the existing job opportunities in the civil aviation sector, Civil Aviation Minister Piyankara Jayaratne told the Sunday Observer.
The Minister said if the youth have shown their keen interest to enter into civil aviation sector, a majority of them have not been able to obtain training in civil aviation due to high expenditure required for such training.
Therefore a committee was appointed to identify the key areas where the degrees can be offered in the civil aviation sector and also to identify the content of these training courses.
This committee is due to submit its report on Wednesday.
The Committee consists of eight members including the Director General of the Civil Aviation Authority H.M.C. Nimalsiri and Pof. Amal Kumarage of Moratuwa University, he said.
Minister Jayaratne said that in order to discuss this proposed Civil Aviation Degree to be introduced, he held a discussion with Higher Education Minister S.B. Dissanayake on February 23 which was also attended by key Ministry officials and other professionals engaged in the field.
A decision was taken at this meeting to appoint this eight-member committee to study and make its recommendations to offer this Civil Aviation Degree.
Meanwhile the Civil Aviation Authority has introduced "Guwansara" program which is focused on delivering basic knowledge on the field of aviation to the public, especially to schoolchildren. Steps have also been taken to set up Aeronautical Clubs in schools.
Our intention is to provide the opportunity to students who have passed the G.C.E. Advanced Level Examination to obtain an aeronautical engineering degree in Sri Lanka within the next few years, the Minister said.