observer
ONLINE
---
---
OTHER LINKS



News in Pictures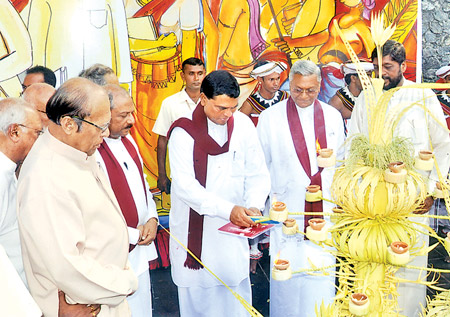 A ceremony to mark the 56th anniversary of the Mahajana Eksath Peramuna government voted to power in 1956 by the popular mandate was held at the Viharamahadevi Park under the patronage of Speaker Chamal Rajapaksa. Over 4,000 delegates representing the bhikkhus, native physicians, teachers, workers and peasants with their offspring participated. Here Economic Development Minister Basil Rajapaksa lights the lamp. Speaker Chamal Rajapaksa, Human Resources Minister Dew Gunesekera, Water Supply and Drainage Minister and MEP Leader Dinesh Gunawardena and MEP Vice President Somaweera Chandrasiri were also present.
---
D.R. Wijewardene birth anniversary commemorated
An all-night Pirith chanting was held on Thursday followed by a Sangika Dana yesterday to mark the 126th birth anniversary of Associated Newspapers of Ceylon Limited (ANCL) founder D.R. Wijewardene. ANCL Chairman Bandula Padmakumara, Ranjith Wijewardene, son of the late D.R. Wijewardene, Directors and ANCL staffers and wellwishers were present on the occasion.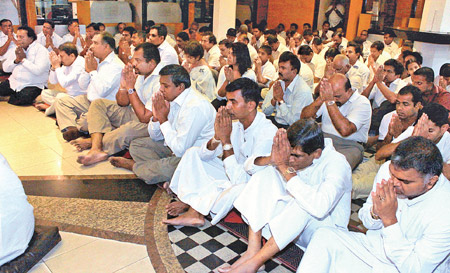 ANCL staff members at the pinkama
---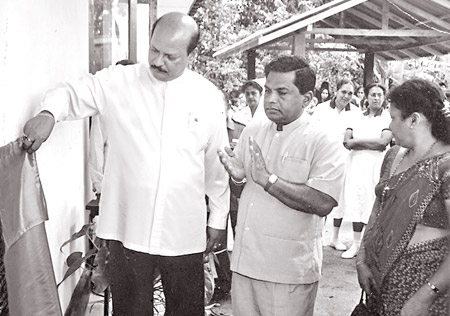 A new health centre in Udispattuwa, built at a cost of Rs. 1.5 million, was opened by Chief
Minister Central Province Sarath Ekanayake. Member (CP) M.G. Jayaratne and Chairperson Pradeshiya Sabha Sunethra Jayarathna were also present. Pic : Ariyawansa Jayaweera, Kandy Special Correspondent.
---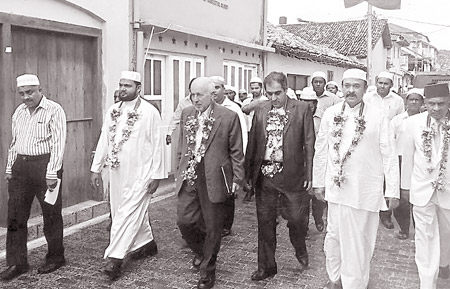 The chief guest Ambassador of the Islamic Republic of Iran Dr. Mohamed Hasani Pour, and guests of honour Chairman Eravur Urban Council Seyed Ali Zahir Moulana, and President Ithihaad Ahlissunnathi wal Jamma-Athi Thalat Ismail and guest speaker, Lecturer, Zahira College, Colombo Abdul Haleem (Sharqy) are taken in procession to the venue of the meeting at the 49th anniversary Meelad-un-Nabi celebrations organised by the Galle Muslim Cultural Association (Inc.).
---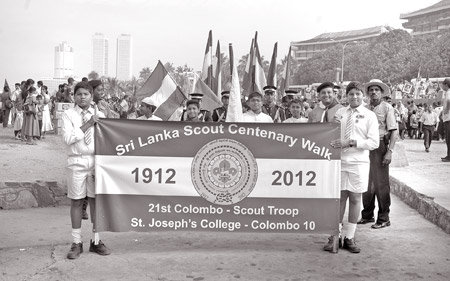 The Sri Lanka Scout Association held its "Scout Centenary Walk 2012" to celebrate 100 years of Scouting in Sri Lanka yesterday. Over 4,000 Scouts (Boys and Girls) and leaders from the various schools and the troops in the Western province took part.
---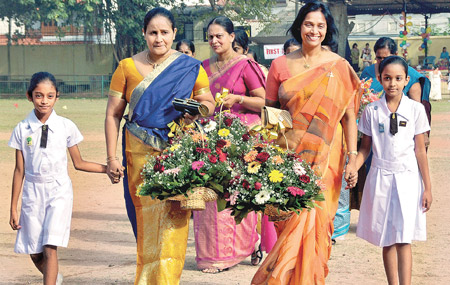 The Primary School Sports Meet of Visakha Vidyala-ya, Colombo was held at the Henry Pedris ground yes-terday. Here a past pupil, Dr. Chandani Wanigathunga, who was the chief guest, is being conducted to the venue by two scouts, accompa-nied by Principal Mrs. Sandamalee Aviruppola and the Sectional Head of the Primary School Mrs. Mudhitha Madanayake. Pic: Saman Sri Wedage
---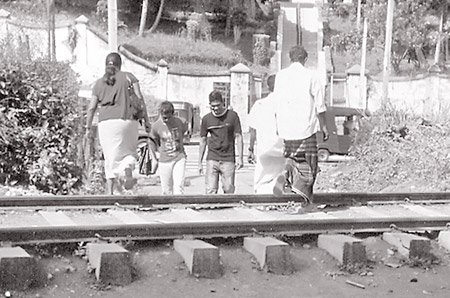 This unprotected level crossing at Palle, Mahaiyawa, within a stone's throw from the Mahaiyawa General Cemetery in Kandy, could be a danger to the public. This level crossing is in a highly residential area close to a community centre, two mosques and other pubic places. The mental condition of a person returning after the burial or cremation of a loved one must be taken into consideration. This unprotected railway crossing could be danger to all. Pic: S.M. Jiffrey Abdeen, Kandy South Group Correspondent.
---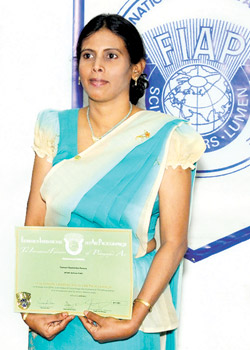 Photo journalist Yamuni Rashmika Perera has been presented with the AFIAF award by the Parisbased International Federation of Photographic Art. A member of the National Photography Association, she had worked at Lakbima and Lanka newspapers as a journalist.
---