Do or die battle for Indians
*Lankans on line for a best of three finals bash
*Mahela helps rewrite history at Bellerive Oval
India play Australia in a crucial game after losing to Sri Lanka on Friday in Hobart, Australia play India in Sydney in a Commonwealth Bank Tri series game on Sunday which should be chock-full of interest.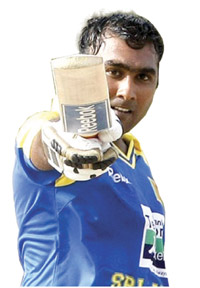 For India it is vital that they beat Australia to keep their chances of entering the best of three finals to be played early next month. If India loses to Australia and then again to Sri Lanka in at the Bellerive Oval on Tuesday, they will do well to pack their bags and baggages and book the next flight home.
With Sri Lanka convincingly beating Australia in two games, the home team will prefer to have India in the finals.
That is Australia's prerogative. So it will be interesting to watch how this crucial game will finish.
India, if they play true to form, can clip the Aussies and still keep their hopes alive.
It is vital that the big Indian batting guns such as Virender Sehwag if he plays, Sachin Tendulkar, Gautam Gambhir, Rohit Sharma and Mahendra Singh Dhoni who will return to the side fire.
And if the Indian bowlers can take it from there and destroy the Aussie batting, then they can be smiling.
The Sri Lankan cricketers re-wrote history at the Bellerive Oval when they achieved a record run chase in beating Australia by 3 wickets under lights on Friday. After Australia made a record score of 280 for 6 in their 50 overs, the Lankans set about their task in a professional manner to better that record and have the home team stunned when they passed the post with 4 balls to spare. The Lankans are now well on the way to the best of three finals topping the points table with 15,Australia second with 14 and India lagging behind with 10.
When openers skipper Mahela Jayawardene and Tillakratne Dilshan took strike, the ask was tough and if the Lankans were to get anywhere near the record Australian score, they had to get off to a solid start.
This new opening combination has struck successfully and their stand of 55 set the tone for the victory chase.
This time round Jayawardene was the aggressor as he mauled, especially fast man Brett Lee who lost his way.
Dilshan played an unlike Dilshan role in this stand of 55 scoring only 3 off 9 balls as Jayawardene took most of the strike and had the scorers busy.
Jayawardene simply marvellous
Jayawardene was simply marvellous as captain and batsman. When the Aussie batsmen, especially Peter Forrest who scored his maiden century in this form of the game, Michael Clarke 72 and David Hussey 40 were making merry, he did not lose his cool.
He kept his head above his shoulders, switched his bowlers around competently, set his field judiciously and when it came to batting, he played his role to perfection. It was his majestic innings that inspired Dinesh Chandimal 80, Lahiru Thirimanne 24 and Angelo Mathews 24 and Thissara Perera who finished the match in grand style bludgeoning 21 in 11 balls with a towering six and a four.
What is striking in Jayawardene is that he is able to squeeze the best out of every member of the team by example. After the losing the first two games and playing out a tie, the chances of the Lankans making further progress in the tournament looked bleak.
But with his never say die approach, supported by his vice captain and captain in waiting and new coach Graham Ford, he has transformed this team into a delta force capable of striking down any cricketing enemy.
Now the Lankans are the most feared team here at the moment. Now all what they have to do is give continuity to this form, not let complacency set in and ruin their good work that is an example to the other two teams.
Young Dinesh Chandimal has been a revelation on this tour. He has taken Australia by storm with his amazing success with the bat. In this short period he has matured beautifully and an amazing future awaits him. He has scored 306 runs and an average of 61.20.
Speaking to the media after the match Jayawardene said this of Chandimal: 'He is something special. Even before the last World Cup he was very close to being in that list. But we felt he did not have the experience to a part of that. 'But we made a decision soon after the World Cup that he was definitely going to be in the side permanently. It was just trying to find a position for him and I feel that number 4 is a good position for him to bat for long periods and he's got the big shots if he wants to.
Chandimal learning fast
'He's learning every day which is great. He's a guy who's learning a lot, ask questions as well off the field which is good for Sri Lanka. He can take our cricket a long way in the next 10 years', concluded Jayawardene.
All rounder Thissara Perera put his hand up when it was most needed. When victory was slipping away from Sri Lanka, he belted Daniel Christian for a four and six and that sealed victory for his team.