Colombo's Chinatown
Quaint business hub in Pettah steeped in history: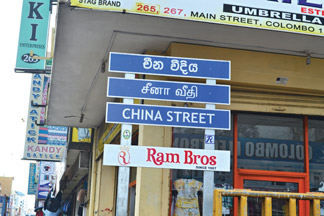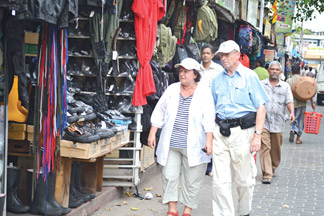 Foreigners walking on Malwatta Road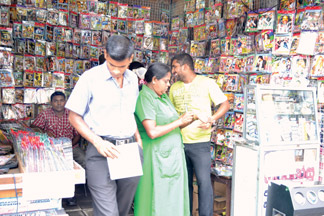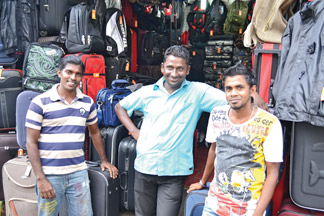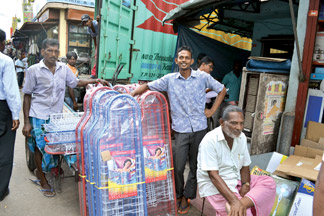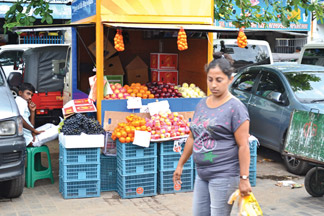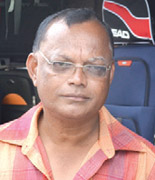 W.A. Kumarasiri
The China Street at Main Street, the Pettah and the Malwatta Road that runs in front of the Fort Railway Station up to the Colombo Harbour are very popular commercial streets in the hub of Colombo city. Not only old people, but also young shoppers in their thousands visit these streets everyday to purchase various household items. Some of the items such as glassware, gift items and electrical goods are not even seen at popular shopping arcades in Cinnamon Gardens, Kollupitiya, Bambalapitiya or Borella.
Among these two popular streets, China Street has a very long history. Legend has it that only two small galvanised roof shops were run by a group of Muslim traders during the colonial era in 1840.
After a few years during the same period, some Sinhalese and Tamils started more shops along this narrow street.
As the shops were filled with more items that were manufactured in China, the street came to be called as 'China Street'.
History relates that the Chinese had visited the country by ship and they were in the habit of exchanging their products with Lankan traders.
The Sunday Observer last week visited the most busiest commercial areas in the hub of Colombo city, the China Street and the Malwatta Road to meet traders and to discuss about their business activities.
Owner
A long standing trader, 76-year-old Haffis Abubacar said he started his business at China Street when he was 32 years. His grandfather, S. Abubacar had started business activities in 1906 and after the death of his grandfather his father took over the business.
"Now I am the sole owner of my business and I sell glassware and kitchen utensils. Some items are locally manufactured and some others have been imported from countries such as India, Bangkok, Thailand and China,".
When asked about the reason for naming this Street as `China Street', he quoted his grandfather and said there were two stories behind it.
"Since the traders sold only Chinese goods during the colonial period, a prominent Muslim trader requested the then colonial rulers to name it as the `China Street'" and the Government temporally accepted the request," he said.
He said there was another romantic story behind the name of this `China Street'.
"A Sri Lankan trader who used to travel by a ship to China for business activities had a close rapport with a Chinese woman who was the daughter of a leading manufacturer in China.
As there were no monetary exchange system during that period, both the Lankan trader and his Chinese female counterpart had exchanged perfume to household items and it was later revealed that the Street was named on the request of this Chinese lady,".
Today the `China Street' has become the most busiest commercial area in the city.
There are over 90 small and large scale business shops on the Street. Businessmen belong to all communities are engaged in various business activities in harmony.
Sanitation
A leading businessman A. Azees who owns a shop at China Street said that he started the business about 25 years ago with the blessings of his father and grandfather.He said he sells mainly household items such as glassware, ceramic items, stationery items, baby items and all kinds of kitchen utensils.
He also said over 5000 people from various parts of the country visit the street everyday and shop owners are engaged in good business activities.
"Although we have good business here, shop owners as well as customers face untold hardships due to lack of sanitation facilities,".
He said unlike other streets in the city, China Street is very narrow and even the space is insufficient for two vehicles to move past. He requested the authorities to demolish unnecessary constructions and widen the street to enable customers to walk freely.
He said, some time ago a little fire had spread inside a clothing material shop and it took a long time for the Colombo Fire Brigade to arrive at the scene, but by that time the whole shop was gutted by the fire.
He therefore urged authorities to widen the China Street, so that even a fire brigade could reach the place in case of a fire.
A shop owner at China Street, P.L. Ameen proposed the Government to give a facelift to the China Street under the Government's city beautification program.
He said old buildings which were constructed and small shops which are constructed very close to the China Street should be demolished and new buildings with two to three storeys put up.
The Malwatta Road which starts in front of the Fort Railway Station has become the most prominent commercial area next to the China Street.
The history of Malwatta Road is coming from the colonial era of 1900. It was revealed that five persons who lived in the Colombo city had started to sell small items which were brought from India and China. They constructed their small business huts near the Khan clock tower in Colombo without any approval from the then British rulers.
Prominent
Malwatta Road is now a prominent place for over 100 businessmen. They have also formed a trade association under the name `Suhada Traders Association'.
According to Suhada Traders Association President W. A. Kumarasiri, only a few shop owners started small business activities during the colonial period. Most buildings in the Malwatta Road are over 125 years old.
"The traders were given permanent places to do their business activities along the Malwatta Road in 1956 by the then Prime Minister S.W.R.D. Bandaranaike."
He said Malwatta Road was constructed with stones that were brought from India. The colonial remnants could be seen even today if anybody visits the area.
It is said that several shops were run by people to sell toddy to labourers and other workers living in the area.
A long-standing Businessman, Martin Liyanarachchi said he started the business at Malwatta Road in 1952. At present there are over 100 shops at Malwatta Road. The shop owners sell various items such as imported shoes, textile, cassette recorders and tapes , radios and television sets.
He said over 10,000 families depend on business at Malwatta Road.
He also said his association is also engaged in welfare and social activities.
Tsunami
"We gave food and garment items worth over Rs. 12 lakhs to people who were affected by Tsunami in 2004.
"In addition, we also distributed school and educational equipment to children at Anuradapura, Mahiyangana, Padaviya and Moneragala.
A shop owner, Oliver Devapriya said they do brisk business in December, April and May.