A new and important book on Indian cinema
A new book on Indian cinema titled, From 'Aan to Lagaan and Beyond: A Guide to the Study of Indian Cinema' has just been published in London by Trentham Books. The co-authors of this book are Prof. K. Moti Gokulsing (University of East London) and Prof. Wimal Dissanayake (University of Hawaii). They have published two books before. One was 'Indian Popular Cinema: A Narrative of Cultural Change' also by Trentham books. It is a highly acclaimed book that is widely used in universities and the second edition of the book was published recently. The other is 'Popular Culture in a Globalized India' published by Routledge Publishers in London.
Prof. Purnima Mankekar of the University of California, Los Angeles said of this work, 'This book presents some of the most exciting interdisciplinary scholarship on popular culture in contemporary India.'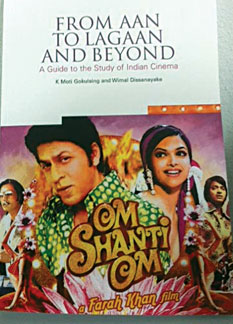 From Aan to Lagaan and Beyond is an authoritative and accessible guide that is written especially to help students understand the complexities and intricacies of Indian cinema. It covers the vast range of the cinema of India plus the meteoric rise of Bollywood.
It discusses the key theoretical approaches to the analysis of films, the cinema audience and audience segmentation. Prof. Rajinder Dudrah of the University of Manchester, England says that, 'The authors have researched and amassed a book of information to assist students, teachers, and scholars in making sense of the growing phenomenon of Indian cinema.
The writing is clear and the ideas are presented in a accessible manner that invite further research and exploration. This is an exciting addition to the field of Indian cinema studies - a gem of a guidebook.'
The book discusses not only the growth of Indian cinema, the rise of regional cinemas but also how Indian films are made, the technology entailed, the role of the cast, crew, playback singers, set designers and choreographers.
The book offers original information on the impact of the corporatisation of the film industry and on censorship, taxation, insurance and advertising - issues that are scarcely discussed in books on Indian cinema.
The fascinating case studies of film analyses illuminate the different theoretical approaches and concepts that students need to understand for examining Indian cinema. And teachers will find that the comprehensive coverage, extensive bibliography, and suggestions for further reading, the discussion of pedagogical issues about the teaching of Indian cinema extremely valuable.
The London-based and well-known film personality Farrukh Dhondy says of Prof. Gokulsing's and Prof. Dissanayake's book that, From Aan to Lagaan is a unique critical guide to one of the greatest dream factories in the world.
It is for the first time that a compilation has avoided the shame of hagiography and the obscurity of pretentious academia.'