Granting duel citizenship will be resumed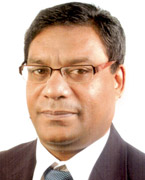 Controller General of Immigration and Emigration Chulananda Perera told the Sunday Observer in an interview that the currently suspended issuance of dual citizenship by his department to eligible persons of Sri Lankan origin, who have acquired citizenship of the countries of their migration, will be re-introduced shortly with some modifications. A proposal has already been submitted on the matter to the Ministry of Defence who in turn will submit a cabinet paper soon. On approval of the cabinet paper the dual citizenship system will be reintroduced, he said.
On the question of the reported on-line visa scam, he said that he recently held discussions on the matter with the Australian migration officials who too encountered similar problems. The Department has very clearly informed all prospective applicants that there is only one official website of the Sri Lankan Immigration Department that is issuing electronic visas and they should be cautious about the fake ones. They anticipate applicants to comply with the request, he said.
The average monthly revenue of their department for the first two months of this year is over Rs.883 million from passport fees, other services, port services, visa fees, Electronic Travel Authorization (ETA) and C.I.T, he said. Their Kandy office is handLing an average of 200 passports per day while the Matara and Anuradhapura offices are handLing an average 100 passports, he said.
In spite of the maximum possible facilities extended by their department to simply the passport application process, they are still unable to dissuade applicants from seeking the assistance of unscrupulous touts and they get complaints every now and then, he said.
In addition to their regional offices in Matara, Kandy and Anuradhapura they also recently opened a regional office in Vavuniya where the issue of passports and other services are being provided.