We produce far in excess of domestic rice requirement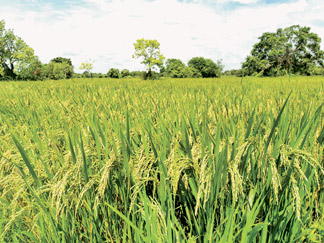 The Agriculture Development Ministry has designated Ampara, Mannar, Hambantota and Polonnaruwa as rice export zones in the efforts to achieve target of exporting 200,000 mt by 2015 as pledged by President Mahinda Rajapaksa, said Agriculture Development Ministry Secretary Wijeratna Sakalasooriya in an interview with the Sunday Observer. Sakalasooriya the former Government Agent, Galle and former additional secretary to the Agriculture Development Ministry assumed duties as the secretary to the Agriculture Development Ministry recently. He said that steps have already been taken to cultivate appropriate rice varieties in those zones.
Excerpts of the interview:
Q: What is the country's annual rice requirement. Have we ever achieved it?
A: Sri Lanka is at present self-sufficient in rice due to the development of the agricultural sector. The country's annual requirement is little over 400,000 mt. Last year's harvest was well over this amount.
Q: What is the progress of "Export Rice" programme launched on the directive of President Mahinda Rajapaksa.
A: There is already a lucrative export market for rice. Rice varieties which have medicinal value such as Heenati, Suvadal, Pachchaperumal, Veda Heenati and Kuruluthuda have been selected as ideally suited for the export zones. In the first phase of the program rice will be exported to the Middle Eastern and European markets.
The government provides all assistance to the farmers and the private sector as well to boost the export drive. International awareness program on the medicinal values of Sri Lanka's traditional rice will also be launched soon.
Q: This time there is a bountiful harvest according to the provincial reports. Is that the position?
A: The favourable climate during the 'Maha Season' was one main reason for the present harvest.
The national agricultural development programs and the assistance provided to the farmers facilitated the cultivation of abandoned paddy fields during the previous 'Yala' and 'Maha' seasons. Except for Sri Lanka no other country have supplied fertilizer on subsidised rates. Sri Lanka's annual fertilizer subsidy bill amounts to over Rs.5,000 billion.
Q: How far the Agriculture Ministry's compost fertilizer program progressed?
A: This programme and its popularization network is making satisfactory progress. Farmers are well aware of the value of compost fertilizer for rice and other crops.
The Wayamba compost fertilizer development program in Pannala conducts regular training programs aimed at motivating farmers and farmer societies to use compost fertilizer. According to scientific research compost fertilizer can be substituted only upto 25 percent for chemical fertilizer.
This is being done in Moneragala, Hambantota, Polonnaruwa and Anuradhapura districts.
Q: Since Sri Lanka spends its valuable foreign exchange to import fruits such as apples, grapes and oranges. Has not the Agriculture Ministry launched any program to improve local fruit cultivation?
A: People have no knowledge of the nutritional value of local fruits such as mangoes, guava, banana, papaya and other varieties. Imported fruits such as apples, grapes, peaches, pears and oranges are highly contaminated with chemicals. Imported fruits take a long time to reach consumers. A new project to upgrade and popularise fruit cultivation was launched recently. Three year development project which is headed by a Senior Administrative Officer who had conducted research on fruits will change the present consumption pattern of local fruits. Novel methods of fruit cultivation, short term fruit crops post harvest procedures and a scheme to popularise local fruits will be introduced under the new fruit promotion and research project.
Q: A large extent of lands have been cultivated in the North and East recently. What is the contribution for the 'Maha' harvest from these districts.
A: North and East farmers reaped bumper harvest. They have brought all cultivable lands under the plough. No doubt that a larger portion of the country's red onion and dry chillies requirement will be supplied by Northern and Eastern farmers very soon.
Q: What is the progress of the cultivation of pulses?
A: We shall stop import of green gram, cowpea, udu, tala, and peanuts by the end of this year. A crash program to cultivate pulses has been launched in Anuradhapura, Moneragala, Hambantota, Ampare, Mullaitivu and Vavuniya districts. Assistance will also be provided to the cultivators to ensure the success of the project.