OBSERVER-MOBITEL Contest will give cricketers the confidence to forge ahead
Observer-Mobitel Cricket contest: The Sunday Observer/Mobitel Schoolboy Cricketer of the Year Contest will no doubt give the hard working schoolboy cricketer the confidence they need for their future endeavours during their march towards national recognition.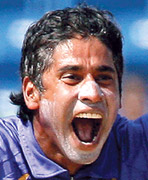 This was the view of the former Sri Lanka Test fast bowler Chaminda Vaas who bowled his heart-out during his 111-Test match career where he took 356 Test wickets and scored over 3,500 runs.
Vaas who was a member of the World Cup winning team under Arjuna Ranatunga in 1996, further said that winning the coveted Schoolboy Cricketer Award could be at times an advantage as well as a disadvantage. Some think that winning the award is everything. Instead they should have a vision that some day they are going to represent the country.
More than half a dozen of past winners like Ranjan Madugalle, Arjuna Ranatunga, Asanka Guruinha, Roshan Mahanama, Thilan Samaraweera and Kumar Dharmasena, to name a few, have reached the top.
These players had a vision and they achieved it by ending at the highest level of the game. They went one step further as Madugalle had the honour of being the ICC Chief Match Referee and Mahanama, too, was selected as a Match Referee while Kumar Dharmasena was selected to the Elite Panel of Umpires.
Vaas further said that the present day generation think that they know everything on the cricket field. They should try to emulate the more experienced players like, Arjuna, Mahanama, Mahela, etc. which will help them to improve their cricket.
Although the competition is held in two categories - All Island and Outstation, one should not forget that in the Outstation contest too, has produced some very good cricketers. Sanath Jayasuriya from St. Servatius', Matara and Tharanga Paranavithana from St. Mary's, Kegalle were just two of them.
I am sure the contest will help find more and more quality players in the future.