Standard Chartered Bank goes for SME Banking
Standard Chartered Bank introduced SME banking to Sri Lanka last week.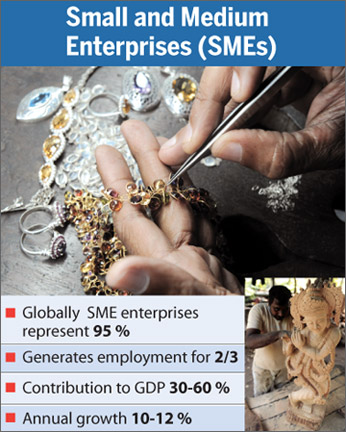 It offers facilities and tailor made solutions that are commonly accessible by large corporate and (MNCs), to the Sri Lankan SME sector covering four the areas of ; working capital management, business protection, yield enhancement and business expansion.
General Manager for SME banking and Consumer banking market sales Sri Lanka, Chaya Jayawardena said, "The unique features of this service includes online integrated banking system which facilitates entrepreneurs anytime, anywhere plus the expertise advisory services offered in cash management, forex transactions and lending which are unparallel to the competitive offerings". She said that the Bank goes beyond mere banking and offer customers a dedicated trade counter, dedicated relationship manager, dedicated specialist and personalised services under a package that is simple, convenient and cost effective.
The Global Head of Sales Management and Customer offerings for SME Banking, Christopher Dalo said in the global atmosphere 95 percent of enterprises are SMEs which generate two third employment and 30-60 percent to the GDP.
He said that SMEs are critical for an economy and are in a phase of rapid development amounting to an annual growth of 10-12 percent.
Easy access to finance, enterprise recognition, and simplification are among the top priority needs of today's SMEs he said.
According to Dalo, Standard Chartered has been in SME business for around 10 years and is well-equipped with wide exposure and experience.
General Manager- SME Banking India and S.A., Rajeev Chalisgaonkar said "We are the largest SME foreign bank in India, Bangladesh and also operates in Nepal and Pakistan and Sri Lanka.
Catering to the emerging trends of the SME sector with increased levels of sophistication in SME business, increased access to international markets.
Head of Consumer Bank,Sanjay Wijemanna, said, "Initially we will execute the service through our 10 branches located in the Western province with plans to extend the facility to other areas in the future".He also said positive economic and social conditions prevailing in Sri Lanka will boost the SME sector further that will generate more business opportunities for them.