Cantaloupe Aqua wins Agoda.com Gold Circle Award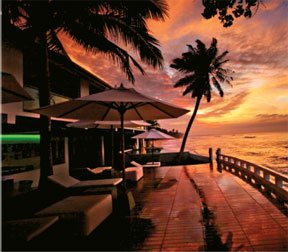 Cantaloupe Aqua (C.Aqua) was awarded the Agoda Gold Circle Award for being the Best Selling Hotel Online within the Galle District. C.Aqua is the first property under the Cantaloupe Villa portfolio. Defined, as a Private Hotel and Beach Club, it has created a new niche within the fashion lifestyle hospitality sector in Sri Lanka.
The concept of the hotel is inspired by famous beach clubs around the world and is the only one of its kind in Sri Lanka.
C.Aqua combines contemporary spaces, colourful décor, eclectic music and delicious food to create the ultimate ocean-front getaway. A distinguishing facet of the property is that it features a private beach in one of the island's most beautiful and undisturbed coastal strips - Thalpe.
Since 2009, Agoda.com recognises hotel partners who display outstanding commitment in providing a superior online service, by presenting them with a Gold Circle Award. "Agoda has enabled Cantaloupe Aqua to maintain an average occupancy of 80 percent in the past 12 months and is responsible for almost 50 percent of the revenue generated in the past eight months.