Laugfs to set up overseas resort in Maldives
Laugfs Holdings will expand its footprint in the leisure sector by setting up its first overseas hotel in the Maldives. The company is in search for a prime location in the islands to set up a luxury resort.
Laugfs will commission its first star class eco-resort in Chilaw in December. Work on the 90-room luxury resort is in progress and it is expected to provide a large number of jobs in the area.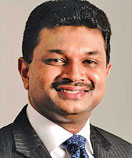 Laugfs Chairman, W.K.H Wegapitiya said that Rs. 1b has been invested in the hotel and added that the company will invest aggressively in the leisure sector which is growing at a pace with opportunities for expansion.
The beach-front resort in Bangadeniya will comprise state-of the art facilities and provide a unique setting for the discerning traveller. Laugfs will set up its second luxury resort on a 15-acre prime land in Waskaduwa, Kalutara with an investment of Rs. 500m.
Laugfs Leisure Limited, a fully-owned subsidiary of Laugfs GAS PLC acquired Mag Consultants and Agents Private Limited.
(MCAPL) and its assets, comprising 15 acres of sea front land in Waskaduwa. The sea front eco resort will comprise 200-rooms and 50 beach villas.
Laugfs plans to set up more star class hotels in the pristine beaches in the South and other attractive tourists locations in the North and the East.
The company hopes to set up resorts in Sigiriya, Nuwara Eliya and Yala under a medium to long term plan for the leisure sector. All properties will be eco-friendly using solar and wind power. Rain water harvesting will be another unique feature in the resorts.
Wegapitiya said that the companies strategic move to enter the re-emerging tourism industry will come into fruition with the launch of the first luxury hotel in Chilaw. Laugfs will develop its brand 'Ananthaya' which means infinity to be on par with international brands.
The tourism industry is on a growth trajectory with a month-on-month increase in arrivals.
Tourist arrivals recorded a 18.3 percent growth for the first four months this year which is expected to woo around one million visitors."We see enormous potential for tourism growth in Sri Lanka. Current industry figures indicate sustained growth for the third consecutive year, with a nine percent increase in arrivals in April" Wegapitiya said.
The scarcity of hotel rooms and skilled staff have been major hurdles for the industry which is geared to earn around $ one billion this year. "Our hotel development project will add more rooms for the industry",Wegapitiya said. With the acquisition of this new land, we intend to set up our second star class hotel at Waskaduwa shortly.
- LF