The Fortress among best hotels in Asia Pacific
The Fortress Resort and Spa won the Best Resort Hotel in the Asia Pacific region, the Best Resort Hotel in Sri Lanka and the Best Resort under the Small Hotels Sri Lanka category at the Asia Pacific Hotel Awards held recently in Malaysia.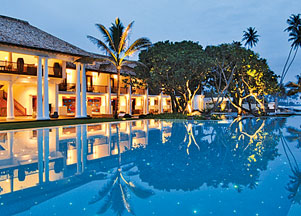 The awards recognise the best hotels, hotel architecture, interiors, construction and design across the entire Asia Pacific region.
Managing Director, Sumith Adhihetty said "The Fortress has again made an impact on the international stage. This is not only heartening news but is also an encouragement for us to continue to uphold the high standards that the resort is synonymous with.
The Asia Pacific region is firmly placed on the global tourism map and winning accolades among such noteworthy competition is truly encouraging."
A subsidiary of the Vallibel One group, the Fortress Resort and Spa has played an important role in shaping the economic landscape of the South of the country and putting Sri Lanka on the map.
"Having a presence in the Asia Pacific Hotel Awards is not just a personal win for the resort or the group. It is a win for the nation, which is gradually reaching 5-star status among tourism stalwarts of the world", Chairman of 'The Fortress Resort and Spa' Dhammika Perera, said.
He said that although the resort is built along the lines of the most exclusive international hotel franchises, traditional Sri Lankan hospitality and warmth form its base.
These awards, combined with the other regional hotel awards' programs for Arabia, Europe, Africa and the Americas, form the globally renowned International Hotel Awards. Judging was carried out through a meticulous process involving a panel of over 20 experts covering every aspect of the hospitality business.
Top scoring winners of five-star awards will now go forward to be re-judged against those from the other regions to determine the ultimate World's Best winners.