Kone ventures into Sri Lankan market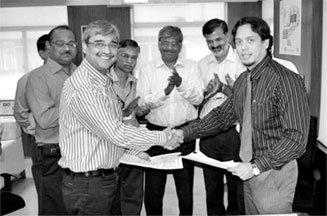 Kone, is expanding its operations into the Sri Lankan market with Lanka Elevator Engineering (Pvt) Ltd. The agreement was signed by Region Director - South, G. Swaminathan and Managing Director, Lanka Elevator Engineering (Pvt.) Ltd, Karl Perera in Chennai with Managing Director, Kone, Elevator India Private Limited, Neeraj Sharma who was also present. Managing Director, Kone, Neeraj Sharma said, "With a strong GDP growth of almost 8 percent in 2011, Sri Lanka is poised for good growth in the coming years.
The tourism industry will be seeing great growth and this will call for better infrastructure facilities which will spur the growth of the construction sector. We see potential for us in this market and are confident that this will help us in expanding our operations".
Managing Director, Lanka Elevator, Karl Perera said, "We have been in the industry for a long period of time and have much expertise in handling this segment. Our tie up with Kone only strengthens our confidence in serving the market better".
Kone will supply elevators to the Sri Lankan market from their global supply units in Chennai.