'Trauma in Litereture'
The Cinnamon Grand's Angsana Meeting Room reverberated to the sounds of animated discussions last Saturday May 12, as Savithri Rodrigo (Media Personality) and Shehara de Silva (Business Consultant/Humanitarian Worker) took on Ashok Ferrey (Writer) and Vivimarie VanderPoorten (Poet) in an exciting and thought provoking forum aptly titled 'Trauma in Literature'.
Unlike historical documentation which provides information on facts, dates and sequence of events, literature enables us to experience something of the experiences of others - a powerful tool for thought. Even if we have not been subjected to trauma in its rawest form, it is not possible to forget and move on when we read about injustice and cruelty - and the tragedy and sorrow they bring.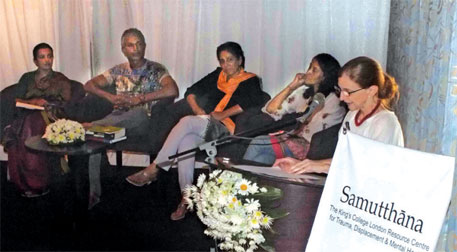 It forces us to reject the apathy of impersonal, anonymous, historical statistics and allows us to understand more fully the human suffering behind the stories we read.
Samutthana - the King's College London Resource Centre in Colombo, for Trauma, Displacement and Mental Health - first got involved in a similar forum at the prestigious Galle Literary Festival in January, where a discussion on trauma within the international arena, moderated by Morgan Meis (USA), was led by the eminent Psychologist, Prof. Rachel Tribe (UK) who is closely affiliated to Samutthana, amidst writers Ellah Allfrey (Zimbabwe), Aminatta Forna (Sierra Leone), and Neluka Silva (Sri Lanka).
This time, the focus was on two well-known and well-loved local writers who concentrated on 'home-grown' issues. They were the popular choice for, in their writings which transcend ethnic division - Ashok Ferrey's vivid short stories and Vivimarie's poignant poems - far more is left unsaid than said.
It is precisely this aspect of 'the unsaid' that offers food for thought and makes the reader an active participant, filling in the background details whilst, at the same time, speculating about the future lying outside the work.
Jill MacDonald, Principal of The Study, kick-started the event by warmly introducing the four Panellists - and Rev John Purves of St Andrew's Scots Kirk concluded the evening by delivering a humorous vote of thanks.
During the course of the evening, the interactive discussions with animated audience participation took on subjects such as the tsunami, the war, trauma, displacement, depression, alcoholism, violence, abuse, family dislocation, abandonment, death, mental retardation, apathy and gender issues, to name but a few.
In the welter of readings, comments, counter-comments and questions, a quote from the Tamil poet Kambar, was put forward by a member of the audience, which struck a chord: "Those who see, don't tell; those who tell, don't see."
And so the debate continued: Can language ever describe or communicate a traumatic experience - the experiences of war, torture or acute emotional distress? We try to write about such things but do the words truly capture the intensity and significance of trauma?
Can we say, then, that literature is both impotent in the face of trauma and defined by the challenges it represents? Indeed, does reading literature about trauma traumatise the reader?
The forum forced us to look at literature as a tool significant in effect whilst affirming individual identity and value. It urged us to see and respond to the experiences and feelings within the traumatised human-being - behind the statistics, figures and percentages we are continuously being bombarded with.
An 'evening with a difference' was what was promised - and delivered. The event was attended by the Gliterati and the Literati - which included a cross-section of professionals, Psychology students, counsellors and representation from various humanitarian agencies.
Like-minded enthusiasts came together to explore the complexities of trauma as portrayed in literature, and it would be true to say that all present found the evening's discussions exceedingly stimulating. Handled with class by Savithri Rodrigo and Shehara de Silva, the audience got the best out of Ashok Ferrey and Vivimarie VanderPoorten.
What we learned was that, whether trauma is an intensively personal experience or a community suffering together, the restorative healing and sensitising power of literature cannot be undermined. Ashok Ferrey's short-stories on trauma, and many of Vivimarie VanderPoorten's poems, reveal the truth that to every single individual, to every family that goes to make up the numbers, it is a personal, lived, tragedy.