Thai Embassy to celebrate 260th anniversary of Ven. Upali Maha Thera's arrival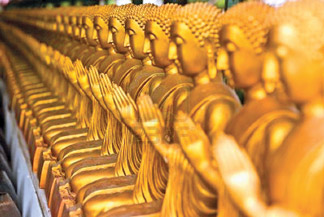 In 2013 Sri Lanka marks the 260th anniversary of Upali Maha Thera's arrival in Sri Lanka to re-establish the Upasampada and the establishment of Siam Maha Nikaya of Sri Lanka. To celebrate the especial occasion, the Royal Thai embassy will organise an English essay competition with the main topic of "Contribution of Venerable Upali Maha Thera of Ayutthaya in the revival of Buddhism in Sri Lanka".
"Next year Sri Lankans celebrate the 260th anniversary of the arrival of Upali Maha Thera who is a Buddhist missionary from Siam. The occasion will be marked here in Sri Lanka by many events organised by the Royal Thai Embassy and out of them the most important event would be the essay competition.
We hope this occasion will spark more research into the long-standing religious and cultural links between the two nations," said the ambassador, Royal Thai embassy Poldej Worachat.
The name Upali Maha Thera may not ring any bells here but to Buddhists in Sri Lanka today it evokes feelings of gratitude. An erudite highly respected monk, Upali Thera led a mission to the kingdom of Kandy in mid 18th century where he ordained monks and gave a new lease of life to Sinhalese Buddhism which had gone into serious decline under European colonial rule.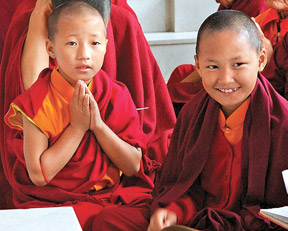 After a long and arduous sea voyage, he and 17 companions arrived in Kandy in 1753, later establishing an order of monks variously known as Siam Nikaya, Siam Wong or Shyamopali.
This branch of Theravada Buddhism has since flourished and put down deep roots in the island nation.
"Siam Nikaya is the largest Buddhist sect in Sri Lanka. It is a well-known fact in Thailand among the Buddhists and non-Buddhists. It is a great opportunity which history has created to celebrate the unity and friendship among these two countries.
I feel grateful to Upali Thera, who took the lead by re-establishing the Upasampada and also by establishing the Siam Maha Nikaya in Sri Lanka, as at today which is the leading religion of the country," said the Ambassador.
Upasampada means approaching or nearing the ascetic tradition. In more common parlance it specifically refers to the rite of ordination by which one undertakes the Buddhist monastic life.
Therefore, the supreme moment in the life of a Buddhist Monk is considered when he receives Upasampada.
Until he receives it, even though he may have many degrees or rich educational backgrounds or carries honours after his name does not treat as sufficient in his religious life. Other than that Upasampada also permits Buddhist monks to observe 'Vas' during the season which is another aspiration of any Bhikkhu.
To celebrate this special event which is equally important in Sri Lanka and Thailand religion cultures, the essay competition under the theme of "Contribution of Venerable Upali Maha Thera of Ayutthaya in the revival of Buddhism in Sri Lanka", categorised under two main areas.
That is the participants who are between 10 to 18 years the word count of the essay should be restricted to between 1,000 to 1,500 words and those who are 19 years and above, the essay word count must be between 2,000 to 2,500 words.
This competition is eligible for Sri Lankan English writers and a participant can submit only one article and the closing date is June 30, 2012.
The selection of winners would be done by a panel of judges and there are many cash prizes to be awarded to the winners such as for the first three placing in 10-18 years category will be awarded cash prizes of Rs. 20,000, Rs.10,000 and Rs.5,000 each and a certificate. And for the first three placing in 19 years and above category will be awarded cash prizes of Rs. 30,000, Rs. 15,000 and Rs. 7,500 with a certificate.
The Royal Thai Embassy invites those who are interested in Buddhist culture and with the English writing skill to participate in the competition and win prizes.
The written submissions can be sent to The Royal Thai Embassy, 9th Floor, Green Lanka Tower, 46/46 Nawam Mawatha, Colombo 2, or can be submitted through e-mail under royalthaiembassyessay2012@hotmail.com.