Towards a new Sri Lanka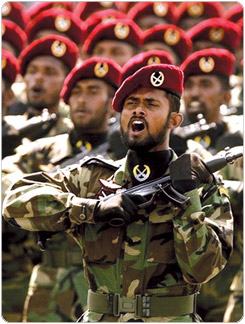 I have read a lot about war and conflict, but the one incident from those pages that struck me most had nothing to do with the theatre of war per se. It happened long after the world's biggest war came to an end. A little boy asked a World War II veteran a seemingly simple question: "How does it feel to be a war hero?". His reply, though simple, has a very deep meaning and reveals all you need to know about the harsh reality of the battlefield. "Son, I am just a survivor. We buried all the heroes."
This is indeed how most soldiers think about themselves. They do not think of themselves as heroes. They are humble to a fault and see defending their Motherland as their duty. They are ready to face any obstacle that comes their way, including death itself.
Here in Sri Lanka, thousands of young men sacrificed their lives so that we could live in a country free of terrorism.
Thousands of others have been disabled permanently. Yet, they do not for a moment regret joining the Armed Forces and fighting to save the Motherland from a ruthless band of terrorists classified by the FBI as the most dangerous in the world.
Their families too were (and still are) fully supportive of the role played by their sons and daughters. This Ranaviru (War Heroes) Month and the commemoration of the defeat of terrorism have given us an ideal opportunity to pay tribute to these heroes of the battlefield.
In Sri Lanka, thousands of young men sacrificed their lives so that we could live in a country free of terrorism. Thou-sands of others have been disabled per-manently. Yet, they do not for a moment regret joining the Armed Forces and fighting to save the Motherland from a ruthless band of terrorists classified by the FBI as the most dangerous in the world
It was just three years ago that they achieved what many thought of as an impossible task. And they 'did the impossible' in just three years, from 2006 to 2009. But we should not forget for a moment that they battled the terrorists for 30 long years.
In this endeavour, there were both successes and failures from time to time. The terrorists caused carnage not only in the North and the East, but also in the rest of the country. However, in the end, the victory of the Forces was a spectacular success. Their indomitable courage and unwavering commitment must be hailed by all.
Eternal vigilance
In the post-conflict scenario, they do have a very significant role to play. Security of the country and its people is still paramount and in this regard, one cannot underestimate the threats faced internally and externally. Thus the Armed Forces must remain vigilant all the time to keep the peace.
Apart from that, it is heartening to note that the Forces are being deployed for the country's development drive. Such a re-alignment of duties should be seen in the context for the need to develop especially the North and the East, which bore the brunt of the hostilities.
Forces personnel are also breaking through the language barrier in those areas to reach out to the people they rescued from the Tigers. In fact, that is why their operation was called a Humanitarian Mission. And this mission still continues though the parameters have changed.
Peace and Reconciliation are part and parcel of the new paradigms of this humanitarian mission. However, these cannot necessarily be achieved without the three Rs – Reconstruction, Rehabilitation and Resettlement.
Rehabilitation
The North and the East suffered heavily in terms of the destruction of physical infrastructure and property. Many of these facilities have to be built from scratch, but this has given planners an opportunity to "build back better". Demining was the number one priority for the authorities and now only a few areas remain to be demined. Only then can any development work go ahead in those areas.
I toured Jaffna and Mullaitivu recently and was impressed with the progress of the development activities including road construction. This is essential for linking the least developed parts of the North with the rest of the country. Better roads mean better connectivity for Northern residents.
The Government has also announced plans to build an expressway to the North, which is expected to be a boost for the Northern economy. The Northern railway link, now under construction, will be another boon.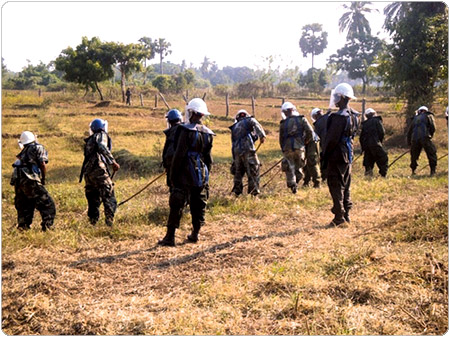 Rehabilitation takes two forms. One is the rehabilitation of families which had suffered silently under LTTE tyranny.
Their psychological scars will take many more years to heal, but that is essential in giving them hope for the future. How does it feel if you are a mother or father whose son or daughter was taken away forcibly by the LTTE, never to be seen again? The other factor is even more important – the rehabilitation of former LTTE combatants and re-integrating them to the wider society.
Many neutral observers agree that this has been a great success. Many remained pessimistic when the Army undertook the momentous task of rehabilitating almost 11,000 ex-LTTE cadre including child soldiers.
That enmity, however, was confined to the battlefield. Senior officers of the Army, once seen as tormentors by these former Tiger cadre, became their trusted mentors.
Everyone, from Northern Parliamentarians to visiting foreign dignitaries, have praised the rehabilitation program, which has given these misguided youth a new lease of life and hope for a brighter future.
It has become a model for other countries facing post-insurgency social issues.
Resettlement is another vital cog in the wheel of peace. There were doubts whether the authorities would be able to expeditiously resettle the almost 300,000 people who were rescued during the Vanni operation.
Three years later, only a few thousand persons remain to be resettled in their own areas.
This is a commendable achievement, given the challenges involved, including demining. Having said that, it will still take several more years for them to reach their full potential after restarting livelihoods, but a start has been made.
Three years after the defeat of terrorism, there is a lot more work to be done in the context of achieving peace and reconciliation. The Armed Forces and the Police have done – and are still doing their job but we, the people, also have a role to play.
Peace is very much a thought that emanates from the heart.
If we love one another irrespective of ethnicity and religion, peace will prevail. It is all about mutual coexistence in a multi-ethnic, multi-religious nation.
Indeed, we should try to learn each other's language as a first step, which fits in well with the Government's Trilingual Sri Lanka program.
If everyone in the North and the South can understand each other, most of our problems will be solved without much effort.
This is already being done in schools, but adults could also make an effort to learn Sinhala or Tamil as the case may be.
This is one part of the much talked-about reconciliation process. It also means that we should atone for any mistakes made and take corrective action.
Such introspection should be a vital part of any reconciliation process. When and where did we go wrong? How can we prevent a repetition of the same mistakes? What is the best way to address the grievances of our peoples battered by conflict, politically and socially? These are questions that we should answer honestly as suggested by the LLRC for the betterment of our nation and we hope that the proposed Parliamentary Select Committee would be up to this task.
One of the biggest challenges that we face in the post-conflict phase is the forging of a truly Sri Lankan national identity. For far too long, we have been used to calling ourselves Sinhala, Tamil, Muslim, Malay and Burgher. We are all Sri Lankan.
A Singaporean wouldn't say he is Malay, Tamil or Chinese. An American wouldn't say he is Hispanic, black or white. That is the very idea of being one nation, one people. We should think of ourselves primarily as Sri Lankans regardless of ethnicity and religion. That is an integral part of reconciliation.
As the saying goes, peace is not merely the absence of war. It is a holistic concept.
The sheer brutality of conflict has made many of us immune to violence. But now that the conflict is over, it is time to stamp out other vices such as crime from our midst. This will pave the way for a better Sri Lanka.
Moral values must come to the fore. Our religious leaders have a pivotal role to play in this exercise. The village temple, kovil, mosque and church must be a focal point for guiding the people on the correct path of non-violence.
As a nation, we have made many sacrifices to get to this juncture. We are a nation at crossroads, looking to a better future after decades of rancour and discord. Only we can make that 'better future' happen. It cannot be imposed on or brought over from, externally.
Mistrust must give way to trust, enmity must turn to friendship, ignorance must be replaced by understanding and intolerance by tolerance. That will pave the way for an inclusive society that treats everyone equally. It will be a society – and a country – that will finally be at peace with itself.