US extends GSP plus trade facility to Sri Lanka:
President's uncompromising faith in local garments pays dividends
There was a time the West attempted to take Sri Lanka for a ride, conveying that they would stop the GSP plus trade facility. During the height of Sri Lanka's relentless battle against LTTE terrorism, the West said that they would withdraw the GSP Plus concession if Sri Lanka does not improve its human rights record.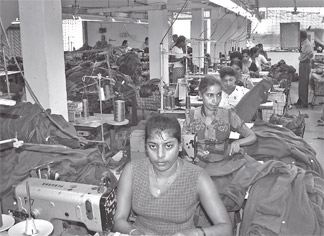 But what did they mean by Sri Lanka's human rights record? Was it the human rights of the ordinary citizens? Definitely No! They were more worried about the human rights of the Tiger terrorists and the LTTE cadres killed in the battle against a legitimate Army of a sovereign state than the human rights of the ordinary citizens of Sri Lanka.
The opportunist Opposition politicians too joined the bandwagon, alleging that thousands of garment factory employees would lose their jobs and that the Government should adhere to the European Union requirements and make every effort to secure the GSP plus facility.
View point
But President Mahinda Rajapaksa had a different viewpoint altogether at that time and it has now proved right. The President was of the view that Sri Lanka should not dance to the tune of the West to get the GSP plus facility and that he would never compromise on matters relating to Sri Lanka's sovereignty and territorial integrity.
On the other hand, the President firmly believed that the quality of garments manufactured here should give Sri Lanka an advantage in the international markets and that there is no necessity to push the panic button.
While appreciating the EU's decision to grant the GSP Plus facility after the tsunami devastation, the EU could continue to do so without attaching any strings such as human rights.
But the EU's decision to withdraw the GSP plus hardly had any impact on local garment industry. In fact, there was a greater demand for quality Sri Lankan garments as the exports increased after the EU withdrew the facility granted to Sri Lanka. This would have disturbed several Opposition politicians as well as certain local agents of INGOs.
If Sri Lanka had heeded all those baseless allegations by certain quarters in the West, just to get an extension of the GSP Plus facility, we would never have crushed the LTTE and enjoy the peace that we enjoy today.
But the US did not follow the EU. The United States announced yesterday they would extend its GSP plus trade facility to Sri Lanka.Had it not been President's far-reaching decision, against various assumptions and theories expressed by Opposition politicians and some business leaders, we would still be totally depending on the facilities offered by the West and the conditions they lay to grant them from time to time.
It is heartening to see Sri Lanka enjoying the luxury of a leader who does not bow down to foreign pressure or compromise matters relating to national security.
The masses across the length and breadth of the country have given him a clear mandate for this and he is demonstrating the true aspirations of the masses. When certain countries in the West level war crime allegations against Sri Lanka, we should enlighten them on numerous LTTE atrocities for almost three decades and that the West should not appear for human rights of terrorists who had fought against a legitimate Army of a sovereign state.
As President Rajapaksa time and again pointed out, there can't be two types of terrorism - good terrorists and bad terrorists! Similarly, there can't be two definitions to terrorism - one to the West and another to this part of the globe! If the West is not talking about human rights of Al Qaeda terrorists killed by the NATO forces, why are they shedding crocodile tears on LTTE terrorists killed by Sri Lanka's Security Forces?
Diplomats
Once again, we urge the politicians in the West and Colombo-based diplomats to have a closer look at LTTE atrocities as we highlight anniversaries of those "acts against mankind" - a phrase often used by the West to frame Sri Lanka. Exactly fifteen years ago, over 100 LTTE terrorists wielding sharp weapons, clubs and firearms stormed Erakkandy Muslim village in Trincomalee and butchered 34 civilians. In their usual orgy of violence, the terrorists clubbed and tortured children and infants to death, chopped women including pregnant mothers, and hacked men and women until they suffered a slow painful death.
On July 6, 1991, LTTE terrorists, armed with firearms and sharp weapons, raided Puttur Muslim village in Polonnaruwa.
In a house-to-house attack, the terrorists hacked to death 14 civilians including women and children after brutally torturing them. Over 50 terrorists participated in this cowardly attack at unarmed civilians.
On the same night they butchered a Muslim village in Polonnaruwa, LTTE terrorists attacked Karpola and Manapitiya Sinhalese villages and hacked 9 civilians to death.
The terrorists first abducted the victims and robbed a van belonging to one of the victims, and then tortured them.Unfortunately, hardly anyone in the West talked about the human rights of those Muslims killed. If the West is extremely worried about rights of Tamils just because they are a minority in Sri Lanka, they should also realise that Muslims too are a minority in Sri Lanka.
Not only the Muslim civilians but even moderate Tamil politicians, who refused to dance to the tune of the LTTE leadership, too were gunned down by the Tigers. On July 5, 1997, MP for Trincomalee, Arunasalam Thangathurai was killed by the LTTE in the Eastern Province.
Separatism
The LTTE also eliminated other terrorist groups which had also supported separatism.
Though their goals were common and both practised gun culture, the LTTE did not wish to see any other force winning the hearts of Tamil people. On July 5, 2003, LTTE terrorists killed another rival in Batticaloa - Mahamad Seyyadu, a political leader of the PLOTE organisation and wounded his wife.
Two present Ministers had survived LTTE assassination attempts during the first week of July. On July 4, 1996, over 21 people were killed and 64 others were wounded when the LTTE terrorists attempted to assassinate Minister Nimal Siripala de Silva at Stanley Road, Jaffna using a suicide bomber. However, the Minister was unhurt.
Minister Douglas Devananda too had survived a similar LTTE assassination attempt during first week of July. Four people were killed while nine others were injured when LTTE terrorists attempted to assassinate Minister Douglas Devananda at Kollupitiya on July 7, 2004.
However, the female suicide bomber could not achieve her target. These are a few of the many LTTE terror acts we highlight from time to time as an eye-opener for some politicians in the West.
They should at least now stop intimidating Sri Lanka or show extreme sympathy for LTTE terrorists now dead and gone. If they continue to do so, they will be contributing for a resurrection of terrorism in Sri Lanka.
Sri Lanka cannot go back to that dark era again.
We should not let any force on earth to rob Sri Lanka's hard-earned peace. All Sri Lankans, irrespective of their religious and ethnic belongings, should unite to stop external elements attempting to meddle with Sri Lanka's internal affairs.