Overcoming non-communicable disease - Asia's prime concern
The Asia region is the fastest growing area of non-communicable diseases (NCDs) . As Asians we always tend to think that compared to Westerners we are ahead in terms of health due to the friendly lifestyle that we lead, and with less amount of industrialisation, compared to them. However, recent statistics show that Asians are at a higher risk of contacting non-communicable diseases compared to the other regions.
According to the 2011 World Bank report, non-communicable diseases are currently responsible for over half of the disease burden in Asia. Globally, deaths from non-communicable conditions are expected to increase by 15 percent (44 million deaths) in the next 10 years. South-East Asia is predicted to have the greatest number of these deaths (10.4 million).
Other than that the World Health Organisation predicts that, over the next 10 years, Asia will see a major increase in deaths from non-communicable conditions.
"Non communicable diseases include heart disease, diabetes, stroke, chronic lung disease, chronic liver disease, injuries, poisoning and mental disease. However, the NCDs other than the injuries and mental diseases have gained more interest recently due to the fact that they affect billions of people worldwide but have become more important in the South Asian region.
In addition, all these NCDs are related to only a few modifiable risk factors, cigarette smoking, and unhealthy eating habits, lack of physical exercise and alcohol," speaking to the Sunday Observer Dr Prasad Katulanda said.
"In September 2011, the UN General Assembly recognised that urgent global action is needed to strengthen the capacity for quality research into the prevention and control of non-communicable diseases.
"Traditionally the communicable diseases such as malaria, diarrhoeal diseases, polio, measles, mumps rubella and other infectious diseases were considered the major public health problems in most developing countries. They were responsible for the most number of deaths and morbidity in these countries. However, with time the improvement of health care services in the country and the awareness made among the communities, we were able to control the infectious diseases and it reduced drastically, Even though we could control this same, with the huge industrialisation and due to the changes happened in our traditional life patterns, non-communicable disease spread severely.
However, these NCDs were not taken much in to consideration because a few decades back heart attaks, strokes, diabetes, cholesterol and many other diseases were not familiar at all.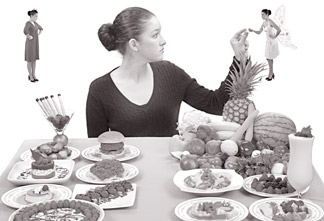 "However, today even a 10 year old child may be having diabetes, heart attacks and any other NCDs due to the stressful, unhealthy life patterns. In addition, with the rapid urbanisation and change of lifestyle from traditional to the more western and urban lifestyles, a new set of health problems have emerged as main causes of mortality and morbidity," he further said.
Even though nowadays, much attention has been paid to nutritious foods and the importance of maintaining a healthy and slim figure, it is doubtful that we understand what is meant by healthy eating habits.
Healthy eating is not about strict nutrition philosophies, staying unrealistically thin, or depriving ourselves of the foods that we love. Rather, it's about feeling great, having more energy and create a good balance or communication with our body and mind.
Because it is a proven fact that if we are conscious about our body, we may feel our diseases or imbalances inside the body.
"The other important aspect is that once established these NCDs become lifelong and therefore we call them chronic NCDs. Chronic NCDs affect mainly the older people but today we see more and more young adults and middle aged people being affected. In addition to the morbidity and mortality to the affected people these have profound implications to the society.
As a result the families and the younger generation get affected; the economies of LMICs get affected as more people become chronically ill. They won't be able to contribute to the productivity but also become dependent," he said.
"In terms of non-communicable diseases, Ischemic heart disease has become the number one killer in Sri Lanka and also in many other developing countries. Diabetes, stroke and chronic kidney diseases are other important health problems. Lung diseases due to cigarette smoking and liver diseases due to alcohol and non- alcoholic fatty liver disease are fast becoming other important non-communicable diseases,"
It is quite essential for us to understand this situation which is becoming even more complicated in future. The ASCEND program is one good initiative that we could come across with the support of government authorities. ASCEND stands for Asian Collaboration for Excellence in Non-Communicable Disease Prevention and Control.
The primary aim of the program is to strengthen the capacity on NCD related research in the three countries, Sri Lanka, India and Malaysia through training a cohort of mid-career professionals in these three countries on NCD related research. "Already 25 professionals from these three countries have started training since 2011. Another 26 started the program recently. Altogether 18 trainees are undergoing training under this program from Sri Lanka," Dr. Prasad said.
"The overall Director of the ASCEND program is Prof. Brian Oldenburg from Monash University Australia who is an eminent researcher on non-communicable diseases.
"I have carried out many research and preventive programs on diabetes and non-communicable diseases and lead the team in Sri Lanka as the country Director along with Dr. Indika Karunathilake. Prof. Edwin Fisher from University of North Carolina USA, Prof. K. Thanakappan from Sri Chithra Institute for Medical Sciences and Technology from India and Prof. Khalid Kadir from Monash University Malaysia are the other country directors from the respective countries.
"The support that we are getting from the Ministry of Health is remarkable. Even though very limited budgets have been allocated specifically for NCDs, with the collaboration of the Ministry of Health we try our best to improve the facilities in every District in a more appropriate and efficient manner.
"Director of the Non-Communicable Diseases of the Ministry of Health, Dr. Thalatha Liyanage is actively involved in this year's program along with many officials from the Ministry with the guidance of the Minister of Health, Maithripala Sirisena.
"The World Health Organisation and the JICA program also have extended their support to the program in Sri Lanka.
"Many senior academics and researchers are involved in the training program as resource personnel and as research supervisors,"
"We expect that this program will help strengthen the capacity of Sri Lanka and the region on the fight against non-communicable diseases," he said.