New scientific institute for world-class scientific research
The present world market is in a fierce competition over selling goods and services. For Sri Lanka to be on par for many years specially in promoting value added products, a dire demand surface to infuse innovative technology to make our products and services more of high quality.
To fulfill this need the Government initiated constructing the country's first Science park. Located at Pitipana in Homagama on a 50 acre land the construction work started last Thursday (June 28) bringing hope for a future strengthened with knowledge. This would be one of the most ambitious development projects in the science and technology field.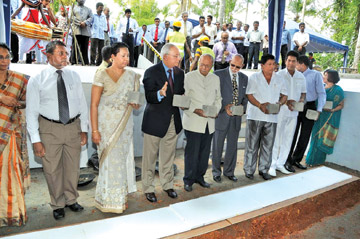 The vision is to make Sri Lanka a leader in knowledge creation and innovation in Asia by establishing a viable eco-system for world class scientific research and technological advancement. A strong commitment is imperative in achieving such a target - both from the government and the science community.
"This is an initiative that has been pursued by SLINTEC which is a private-public partnership, which I believe is the first of its kind in the field of science and technology," said Secretary to the Ministry of Technology and Research Dhara Wijayatilake.
Talking about the SLINTEC (The Sri Lanka Institute of Nanotechnology (Pvt) Limited) Wijayatilake said that it is a model that is being watched by Government and no doubt the private sector to work in harmony with Government on ambitious development projects.
"This will be phase 1A of a four phase plan the SLINTEC has drawn for the science park. I believe we have every right and perhaps an obligation to be ambitious on behalf of the scientific community," she added.
The plan is to complete the phase 1A of the science park project by July 2013, according to Wijayathilake.
Accordingly, it will be a centre for research and investment which will include a state-of-the-art laboratory and infrastructure that will certainly support the scientific community of the country as well as industry," she said. Accordingly the first phase will be fully funded by the government.
"Being funded by the Government signifies not a mere commitment to provide funds for an infrastructure development project, but it is valued as an acceptance at the highest level of the Government that Research and Development in the field of science and technology does play a vital role in the macro national development agenda.
This is also evident by the many concessions that have been granted in the 2012 budget for those who engage in research and development initiatives," Wijayathilake said.
She also said that it is now the responsibility of SLINTEC to ensure that acceptance has validity by focusing on efforts that will produce results that are relevant to our development.
The total cost of the phase 1A will be around Rs. 829 million which is fully funded by the government. This is a magnificent step in upgrading the science field as historically the Gross Domestic Expenditure on Research and Development has been around 0.15-0.2 p.c. of GDP.
SLINTEC has sought as many as seven patents in areas including smart fertiliser, mobile phone based health services, carbon nanotubes from vein graphite available here that are 100 times stronger than steel and nanotechnology based tires.
The new science park will provide a space that will translate the scientific findings into business, said Professor Ajith de Alwis, Chairman of the National Nanotechnology Committee under the National Science Foundation. "The research and development field is embracing nanotechnology and we are still not too behind the world.
As Professor de Alwis said, with concepts like science park Sri Lanka is actually incorporating a triple helix model in which includes the state, industry and the universities together. "There are number of scientific and technological innovations in the country.
Yet as there had been a lack of interconnectivity among these researchers or their organisations with the state and business sector most of those findings never really got the best results it expected," said Prof. De Alwis. Thus, the new concepts in linking the scientific community, state and the industries will be a frog leap for the betterment of the science field and eventually strengthen the economy of the country.
As an example, the technology of the slow release fertiliser innovated by scientists of the SLINTEC was purchased by a leading Indian Fertiliser company at a value of nearly Rs. 3 million.
"The investments made on research and development will not show immediate profits like in exporting raw products like tea or as in tourism. But the return the country will get from technological innovations will exceed any of these profits and that profit is viable for a longer period of time," he added. Advanced industrial economies around the world are steadily moving to the unprecedented position where knowledge based industries and knowledge based organisations will within the foreseeable future generate more than half of their total GDP and total employment.
At this time in the history when Asia is becoming a formidable economic power we too should recognise the importance of science, technology and innovation in fuelling a national economy.
To raise Sri Lanka to developed status this Science and Technology Policy along with others must be integrated with other inputs such as infrastructure (transport, telecommunications, power, etc.), a fair and efficient legal system, including law enforcement, and above all peace and security.
National development can only truly be achieved in an atmosphere in which individuals have faith in the system and feel comfortable investing in productive enterprises.