Switch Asia support hotels, enhances energy efficiency
Around 220 Sri Lankan hotels have registered with the Switch Asia Greening Hotel initiative and have shown a marked improvement in energy management said EU- Switch Asia Greening Sri Lanka Hotels Project Director, Srilal Miththapala.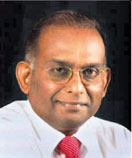 He said that over 50 hotels have implemented sustainability guidelines and have enhanced energy efficiency. The number of hotels that are keen to come on board and enhance sustainable consumption and production, has increased.
"Promoting sustainable consumption and production will help position Sri Lanka tourism well in the global arena and woo more visitors to the country", Miththapala said.
"Greening Sri Lankan Hotels is a European Commission funded project under the Switch-Asia program targeted at enhancing environmental performance of Sri Lankan hotels through improvement of energy, water and waste management systems and reduce cost of operations and increase market acceptance of Sri Lankan hotels "Miththapala said. "Many hotels have reduced energy costs by adopting good practices such as switching on to solar energy, rain water harvesting and the use of biogas.
Goldi Sands Hotel Negombo, Windsor Hotel Nuwara Eliya and Thambapanni Hotel Unawatuna are some of the hotels that have achieved remarkable growth in sustainable practices", he said.
Miththapala said that similar to the garment industry, tour operators were keen to know how hotels are run, what mechanisms are used to manage waste and whether they were using renewable energy sources to reduce carbon emission.
"The time will soon come when hoteliers will not be able to market their properties due to high energy consumption and unsustainable practices. Tourists will refuse to stay in hotels which are not environment friendly", he said.
Around 22 percent of tour operators in the world want to stay in hotels which are green and have low energy consumption, according to Kuoni, a leading global tour operator. Miththapala said that the primary objective objective of the project is to enhance the environmental performance of Sri
Lankan Hotels through the improvement of energy, water and waste management.
A large number of hotels are keen to switch on to good practices and reduce cost. Switch Asia will support hotels by sharing its expertise to enhance energy efficiency and adopt productive waste management such as use of bio-gas and rain water harvesting. Miththapala said that awards will be presented for the first time to hotels which adopt sustainable energy practices.
Switch Asia will conduct a seminar on 'Why Sustainability is Important for Tourism'on July 4 at the Cinnamon Lakeside from 8.30 a.m. to 1.00 p.m. World renowned tourism industry experts and environmentalists will speak on the occasion.