Abans launches Hoover Floor Cleaner
The 'Hoover Floor Cleaner' also known as the 'Hoover Floor Mate Vacuum Cleaner" eliminates the use of mops, brooms, brushes and buckets.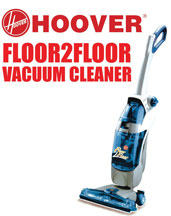 The Hoover Floor Cleaner not only vacuums, but also cleans, mops and dries floors completely.
Unlike traditional cleaning methods that merely push the dirt and dust around, the Hoover Floor Cleaner is equipped with a dual-tank system, one for clean water solution, and the other for dirty water pick-up. Dirty water then does not get back on your floors. The Hoover Floor Cleaner has a vac-wash, dry cleaning system specially designed for cleaning of most hard floor surfaces.
Switching between cleaning options is easier with the EZ Select Dial. It is designed to vacuum, mop and dry the floor. The Hoover Floor Cleaner cleansto suit the purpose. Hard floor surfaces such as ceramic tiles, sealed wood, laminate and marble. It comes with special brushes for cleaning grout.
The right brush could be used like the interchangeable spin scrub and grout brushes.
A common cause of household accidents are attributed to wet floors. The Hoover Floor Cleaner eliminates the risk of accidents caused by wet floors as it dries the floor after mopping and scrubbing. The wet pick-up mode can also be used to suck small spills.
The folding handle makes the Hoover Floor Cleaner compact and easy to store.
The portable detail kit fits compactly over the machine and does a good job of holding any and all accessories for cleaning, including bottles of cleaning solution. The tanks are easily removable for filling, emptying and cleaning.