Softlogic Stockbrokers launches operations
Softlogic launched Softlogic Stockbrokers (Pvt) Ltd, adding stock broking to its portfolio of financial services. Formerly known as Arrenga Capital (Pvt) Ltd, the company was acquired by Softlogic Capital PLC - the holding company for the Financial Services Sector of the Group, in April 2012.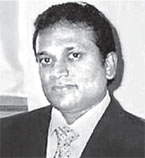 The company set up in May 2011 has already carved a market share.
Softlogic Stockbrokers will offer financial solutions to its Institutional and Retail clients that will include top notch research and advisory services and combine with the Sector to provide a multitude of products that will enable clients to address their investment, funding and risk management requirements.
Currently, Sri Lanka's stock broking fraternity counts 29 players and Softlogic Stockbrokers acknowledges the need to differentiate its offering based on service and sound financial credentials.
Chairman, Softlogic Holdings, Ashok Pathirage said, "The Softlogic group has a diverse portfolio of financial services and with the setting up of Softlogic Stockbrokers, we have fulfilled the need for a stock broking arm as well.
"As a relatively young company, I am confident that Sotflogic Stockbrokers will be inducted into the Softlogic philosophy of ethical functioning and prove to be one of the front runners in the market in the near future.
We believe that the real boom in the country's capital markets is yet to come and we are fully confident that Softlogic Stockbrokers is poised to take full advantage of this growth for the benefit of its customers," CEO of Softlogic Stock Brokers, Dihan Dedigama,said. "Softlogic Stockbrokers is positioned to leverage on group synergies due to its strong backing by the sound credentials of Softlogic Holdings. The parent group is diversified with interests in the financial services, insurance and health care sectors. We are confident that these group synergies will help us to grow our market share whilst enhancing our brand equity in the financial landscape.
The company houses a wealth of expertise in our experienced team of stock brokers who are suitably backed by a skilled research team," he said.
"Softlogic Capital's portfolio of financial services includes Softlogic Finance PLC, a Licensed Finance Company (LFC) licensed by the Central Bank of Sri Lanka; Asian Alliance Insurance Co PLC, a composite insurer licensed for both Life and General insurance by the Insurance Board of Sri Lanka and Softlogic Stockbrokers (Pvt) Ltd, a stock broking company licensed and operating on the Colombo Stock Exchange.
Together with the newly formed Asset Management Unit licensed by the SEC, this comprehensive financial services portfolio has primed the sector for strident growth, leveraging on its fast increasing customer base acquired from diverse sectors of the overall Group", he said.