Savira Homes to build 10,000 houses
Savira Homes and Constructions (Pvt) Ltd., which entered the construction sector six years ago, caters to all sections of the market.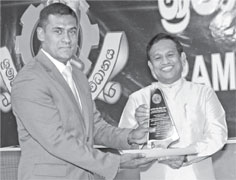 The company at Hokandara North, specialises in the construction of luxury dwelling houses, in addition to handling construction projects of apartments, mini hospitals and roads.
The company has built a luxury housing project in Negombo, and the Kelaniya SuperMarket, was also built by Savira Homes and Constructions (Pvt) Ltd.
The Chairman of Savira Homes and Constructions (Pvt) Ltd. M.D. Indika Peiris said that the company provides an excellent service to its customers. The houses are completed with guaranteed and SLS certified quality fittings and floorings and customers can make payments in three instalments for single storeyed houses and in four instalments for two storeyed houses.
Chairman Indika Peiris said that his 165 employees are the strength of the organisation and consist of qualified civil Engineers, Quantity Surveyors, Architects and other professionals with years of experience in the construction field.
The vision of the company has been established as 'Building 10,000 houses by the year 2016' and according to this vision could be realised before that.
Meanwhile the Mission Statement of the company reads as 'Building quality houses-real value for money'.
Savira Homes operates in the Western Province covering all areas of the three Districts of Colombo, Gampaha and Kalutara and plans to expand its activities into other districts as well in the future.
The accolades received by Savira Homes and Constructions (Pvt) Ltd. includes the 2011 Shrama Abhimana Award and the 2012 Best House Construction Company Award.