NDB Corporate Banking receives ISO 9001: 2008 certification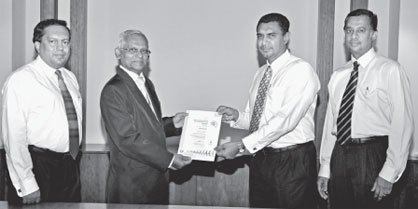 NDB became the first bank to secure ISO certification for its Corporate Banking division. The certification, which is not commonly granted to the services industry, affirms that the services offered by NDB Corporate Banking gratify international standards of quality for such banking services and procedures. Previously, NDB's Human Resources, Trade Services and Internal Audit divisions have earned the ISO certification and Corporate Banking unit is the 4th division in the bank to receive the certification.
NDB's Corporate Banking arm manages the acquisition and servicing of funding for middle to large scale businesses in the country. It provides short and medium term lending facilities to a diverse clientele which include some of country's largest blue chips and business conglomerates.
The Corporate banking unit also provides investment opportunities for their clients powered by the group synergies of NDB; thus, servicing its distinct clientele with full fledged financial solutions.
Chief Operating Officer at NDB, Indrajit Wickramasinghe said, "NDB's Corporate Banking unit has not only shown growth in volumes and turnover but has also maintained a healthy portfolio of clients over the years.