UNIDO enlists micros and SMEs to speed industrial resurgence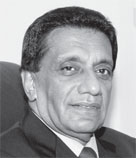 The North and the East have started to contribute to the country's GDP, and UNIDO is moving to resurrect the regional chambers of these provinces - and elsewhere. "Our regional chambers can actively get involved in identifying the industrial requirements of their areas, the availability of indigenous raw material and in facilitation of the SME' sector" said National Director of UNIDO-Sri Lanka, Nawaz Rajabdeen. "With the Ministry of Industry and Commerce, UNIDO focal point in Colombo is planning to extend technical support to establish micro and small industries especially in the North and the East"
Rajabdeen said, "But our span is not only for the North and East but to the rest of the provinces too" he said.
In 2011, the North and East economic growth rate was at 22 percent, above the 8.2 percent national average. Sri Lanka plans to double the North and East's GDP contribution by 2014.