HP unveils Ultrabook
HP, launched its latest notebook portfolio Ultrabook systems in Colombo last week. The new thin and light Ultrabook notebook computers with the latest technology caters to the consumer and also meets business demand.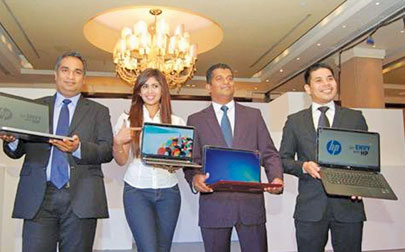 Category and Marketing Manager for Asian emerging countries for Personal System Group, Christian Edmond said that the new HP Ultrabook systems deliver uncompromised performance, quality and entertainment experiences within distinctive design.
"The Ultrabook is rapidly becoming the must-have solution for anyone who insist on performance, responsiveness and secure computing experience in a thin elegant form factor", said Country Business Manager of HP, Lackshmindra Fernando.
Today we HP introduce ultra thin technology mobile products in Sri Lanka.
There is a rapid evolution in technology and 18-19 years ago we sold cumbersome PCs.
Five years later the mobile competitor laptop came into markets with mobility as a key feature.
Today, we have been connected by this technology with all our day-to-day activities and we can communicate and work from anywhere we are. Ultra thin technology has added more values and new features to notebook computers.
Research and Development in HP introduces this new Ultrabook series on Intel's latest ultra thin technology, Fernando said. The ICT sector in Sri Lanka is growing fast and in all age groups the use of technology is growing in a big way.
"We are not behind any country and we have techno savvy people. HP is the leader in the Sri Lankan market and we are committed to provide the latest technology to our customers," he said.
Country manager of Intel in Sri Lanka, Indika de Zoysa said that today there are over two billion people around the world connected to internet. It is lucky to see HP launches Ultrabook in Sri Lanka just one month after Intel launched its third-generation processors.
HP Ultrabook Envy 4 computers are powered by this third-generation Intel Core processors, he said.
HP has equipped its latest products with ImagePad. ImagePad is an advanced image sensor that replaces the traditional touchpad to provide better precision and improve gesture responsiveness. It has ultra secure features, there is no boot time and can work and be connected even in sleep mode. *
GW