Mineral cosmetics from Paul Penders
One of the top mineral cosmetic manufactures from USA opened its showroom cum beauty salon in Colombo recently.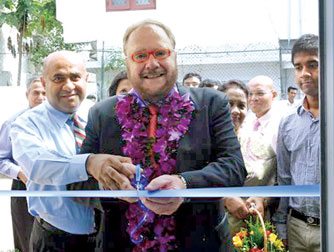 Made 100 percent from organic sources Paul Penders is housed at the Harcourts Wellness Center at Colombo 3.
The Founder Chairman inaugurated this Salon is managed by Ms. Sue Wickramaratne, a Renowned Beautician Consultant.
Each Paul Penders product is infused with "Essence of life" or "Levers Essentie Gold" a 100 year old traditional formulation of Penders.
This unique herbal extract combining 22 herbs Eastern and Western certified work to restore balance and vitality to your skin and hair similar to ancient Ayurvedic practices where herbs are used to balance body, mind and spirit.
, Chairman of Harcourts Group and Paul Penders Lanka Ltd Ahamed Rheyas said that Paul Penders has received the USA Award for cosmetics in 2008, 2009,2010 and UK award in 2009.
Rheyas said that the founder Paul Penders has been against testing cosmetics on animals from the very start.
Paul Penders skin care is developed and researched by professional R&D team and produced in small batches.
All products are cold-processed to ensure that their bioactive ingredients maintain their full strength giving you optimally effective roducts.
All Paul Penders products are free from harmful chemical foam boosters, emulsifiers, perfumes and preservatives with extensive ingredients which meet the strictest EU and US ingredient listing regulations. Good skin care products do not pollute the environment and are never tested on innocent animals,said Rheyas.