Child-friendly educational manual launched
Education Minister Bandula Gunawardane highlighted the value of introducing a child- friendly school education system in the country.
According to Minister Gunawardane, a child-friendly education will motivate and encourage children to get involved in both educational and extra curricular activities.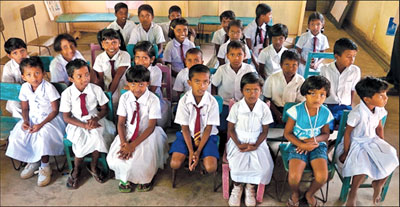 The Education Minister made these remarks at a meeting held in Colombo to coincide with the launching of a child -friendly education manual. The programme is carried out in collaboration with the United Nations Children's Fund (UNICEF). Sri Lankan representative of the UNICEF, Reza Hossaini was also present on the occasion.
The manual is based on the universal declaration of child rights. It has adopted six dimensions of the child-friendly schools concept and ensured that every school should meet the rights of children.
Minister Gunawardane told the Junior Observer that although this system is a new concept to our country, it is currently carried out in many countries worldwide and it has given very successful results. " The system will significantly improve the desire of learning for all children."Minister Gunawardane also said the new guidance manual contains comprehensive information to help Sri Lankan educationists in their endeavour of providing a conducive and interactive teaching and learning environment for all children which would immensely help to develop their school and higher educational activities.
The Education Minister further said the Government's vision is to implement such a child friendly school education system to provide a happy learning environment for children, especially those who are learning in primary schools.
" These children will be able to participate eagerly in the learning process to achieve their future goals."
The manual has been published in both Sinhala and Tamil and it provides guidance on key aspects that need to be developed in order to improve the quality of education in all primary schools .
The child friendly school manual could be obtained at http://www.unicef.org/srilanka/activities 7705. htm.
---
Celebrities speak out at Rio earth summit
Hollywood heavyweights threw their star power behind environmental causes, advocating for the creation of an Arctic reserve and the protection of animal and plant species.Actor Edward Norton, the United Nations goodwill ambassador for biodiversity, appeared at a news conference at the U.N.'s Rio+20 earth summit to raise awareness of the fight to preserve the planet's rich variety of species at a time when flora and fauna are going extinct at an alarming rate.
"Loss of biodiversity is a very difficult form of environmental degradation for people to wrap their minds around," the "Fight Club" star told participants at the news conference, held on day two of the United Nations' Rio+20 earth summit. "They don't see species disappearing in front of them in a short time-frame. They don't necessarily see and feel every day their reliance on biodiversity."He said people often don't realise how biodiversity touches their daily lives, from the bees and other insects and birds that pollinate the fruits we eat to the predators that keep other species in check. Norton added that it was his role as goodwill ambassador to highlight to what extent human survival is linked to that of the planet's other animals and plants.
"You can't protect something that people don't value. So we have to work to make sure that people value biodiversity and see how it has value in their own lives," he said.
Robert Redford, Penelope Cruz and former Beatle Paul McCartney were among a host of other A-listers to sign Greenpeace's petition for the creation of a global sanctuary around the North Pole, with a ban on offshore oil drilling and an end to unsustainable fishing.
The environmental group said the North Pole should have the same sorts of protections given the Antarctic more than 20 years ago. No single nation has sovereignty over Antarctica, and the continent is reserved for scientific research, off-limits to commercial projects. The Arctic, which is believed to hold up to a quarter of the Earth's undiscovered oil and gas, is currently considered the high seas, but several nations have recently made plans to establish their sovereignty over the Arctic seabed, a move that could open the area to deep-sea oil drilling.
AP
---
News in Brief
Human skeleton found in Fa-Hsien Cave
A complete human skeleton which could be the oldest found so far in South Asia has been found in Sri Lanka, archaeologists said. It was excavated from a cave in western Sri Lanka. Officials will send it for carbon-dating and expect results in a month.Other items, excavated from the same layer as the skeleton, have been confirmed as dating back 37,000 years.Stone and bone tools were found with the skeleton.
The skeleton thought to be homo sapiens was found in Fa - Hsien Cave in the district of Kalutara, Western Province.Human remains were also discovered at the cave in the 1960s and 1980s.According to archaeologist Nimal Perera the recent find proves that homo sapiens settled in Sri Lanka about 40,000 years ago.He said that it is the first time that a complete pre-historic human skeleton has been unearthed in Sri Lanka.
More evidence is currently being unearthed about its eating habits, rituals and equipment made out of stone.Some ornaments made of beads have also been excavated,along with weapons made of animal bone.
---
Many schoolchildren affected by epilepsy
Around 300,000 people in Sri Lanka are epilepsy patients. The most tragic situation is that most are pre-school and schoolchildren. Without being properly treated,their future will be at risk, a Health Ministry source said.
Epilepsy is a disease which all family members should pay attention to, even if one person in the family is suffering from it.The majority of patients seeking outdoor treatment from state hospitals countrywide for neuro diseases suffer from epilepsy.All Epilepsy patients should receive proper treatment and therefore the Health Ministry has decided to establish the National Epilepsy Treatment Hospial attached to the Colombo National Hospital. The hospital will consist of eight storeys. The best treatment for neuro diseases in Sri Lanka can be received at this hospital. The construction of this hospital has already commenced. The Government is to spend Rs. 3,000 million on this project with financial assistance from the Saudi Arabian government. The hospital is scheduled to be completed by 2014.
---
Dust mites in human ears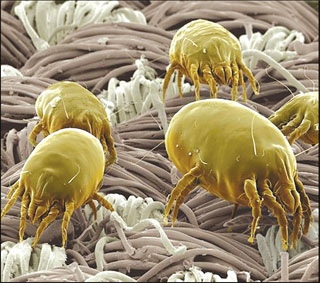 Doctors have found hundreds of home dust mites, similar to those found in mobile phones, in a human ear first time in Sri Lanka, Ministry of Health said.
This discovery was made by doctors of the Kalutara, Nagoda hospital when a patient arrived with an abnormal dust-like growth in his ear.
These organisms usually grow in external environments and this is the first time doctors discovered them in an internal environment. Doctors say that this maybe due to the lack of personal hygiene and it is not yet confirmed that they have entered the victim's ear via a mobile phone.
---
Adolescents at risk of becoming diabetics
According to a survey carried out by the Diabetes Centre, one in four urban adolescents in Sri Lanka is sliding down a slippery slope into an abyss where diabetes awaits them. This first-ever Sri Lankan survey of young persons screened to ascertain the risk factors for diabetes, has thrown up startling but not unexpected results.
The research has found that 24 percent of the adolescents between 10 to 14 years had two or more risk factors for the development of type two diabetes. The risk factors include increased body mass index, raised waist circumference, high levels of physical inactivity and first-degree family history.
The most significant risk factor detected among the 10 to 40 age group was physical inactivity which had an overall prevalence of about 45 per cent while the prevalence of central obesity was 38 per cent with more females than males being prone to this risk factor.