Reconciliation, a Lankan issue, says Menon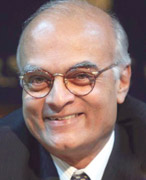 India's National Security Advisor Shivshankar Menon said that reconciliation is entirely a "Sri Lankan issue" and India was willing to provide all possible assistance to achieve that goal.
In a media interaction following a series of meetings in Colombo including talks with President Mahinda Rajapaksa, the Indian National Security Advisor said that his visit to Sri Lanka has been in the context of regular consultations and exchange of views between the Governments of India and Sri Lanka.
On the bilateral front, we noted that most of the Indian-assisted projects were proceeding well and several projects, particularly those relating to the development of railway infrastructure in the Northern and Southern Provinces, were being implemented well ahead of schedule.
Menon, who also held talks with Minister of External Affairs G.L. Peiris, Minister of Economic Development Basil Rajapaksa, Defence Secretary Gotabaya Rajapaksa and TNA leader R. Sampanthan, said that India had always stood for a "united Sri Lanka" where all citizens can live in equality, justice, dignity and self-respect, and New Delhi has worked closely with the Sri Lankan Government in rehabilitation and resettlement of the displaced persons.
"I discussed recent developments, bilateral relations and areas of common concern. I was also briefed on the steps being taken by the Sri Lanka Government on political reconciliation and settlement. While this is a Sri Lankan issue and something that Sri Lanka has to do, we will continue to remain engaged with all concerned and offer any support needed in this regard," he told the media.
Menon said the issue of fishermen too was discussed. "We agreed that fishermen's associations on both sides, which had met in the past and reached some understanding, needed to meet again to work on developing this further. This could then serve as the basis for finding a solution to this humanitarian issue," he said.