Tourism targets begin with reforming taxi-drivers
For every 15 tourists that arrive in Sri Lanka, one job opportunity is created in the Sri Lanka tourism industry, said the Chairman of the Tourist Board of the Western Province, Claude Thomasz. He said this at an event to mark the successful conclusion of a program that rehabilitated and trained 300 taxi drivers in the Western Province.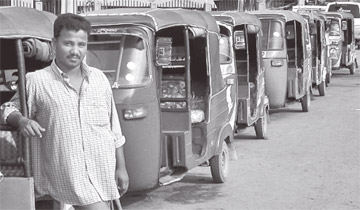 Sri Lanka has a long way to go in terms of gaining significant edge in tourism if we want to tap into the massive volume of tourists flocking to other countries in South East Asia. However, more than just achieving the target of attracting 2.5 million tourists by the year 2016, it is educating our tourism stakeholders, service personnel and those completely dependant on tourism profits.
"Once we gave the opportunity for taxi drivers to come and understand about the various cultures, the behaviour and how to treat tourists, they showed a remarkable progress which led to better profits in the form of more hires and ethical standards," said Thomasz.He stated that not only taxi drivers but they are expanding to give this training service to boatmen transporting tourists, site and area guides and vendors. He said, "Our aim is to provide all logistic assistance together with the Sri Lanka Tourism Development Authority with the aim of providing a better standard of service."
According to the Sri Lanka Tourism policy as stated by the Ministry of Economic Development, they are planning to increase tourism related employment from 125,000 in 2010 to 500,000 by 2016 and expand tourism based industry and services all over the island. "We are starting at the taxi drivers because they have the ability to make a tourist feel welcome or irritated. The Western Province also has the benefit of welcoming a tourist and also sending them off back home but if we don't know how to keep them happy after they arrive here, then we should change our tourism culture among our tourism service personnel," he said.
Under the program, while 300 taxi drivers have been trained, there are many others who are keen to train and take back what they learnt and turn it into practice. Thomasz said, "We are certifying all the taxi drivers who have qualified under our program with a special licence, certificate and a wide network base so that they are equipped to deal with whatever questions and problems a tourist might have. In addition, we are also planning to teach them languages and take the program one step further by getting the taxi-drivers not only help themselves but also their friends and colleagues to take the message across."