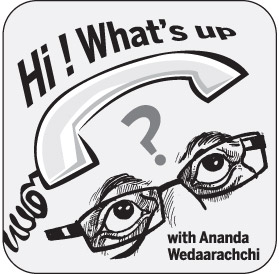 The PC elections round the corner are being held at the right time. Two Ministers give their views in this regard.
The Education Ministry says it is not responsible for the Z-Score fiasco.
---

Victory certain
United Peoples Freedom Alliance (UPFA) General Secretary and Petroleum Industries Minister -Susil Premajayantha
Q: The Government dissolved the North Central, Eastern and Sabaragamuwa Provincial Councils last week. How do you assess the UPFA's strength in these PCs?
A: The UPFA launched a massive development drive in these provinces during the past four years. We are quite sure of victory at the election.
Q: Why were the three PCs dissolved before their term?
A: The UPFA always had elections earlier than the due date. We have never postponed the elections. Opposition political parties have been given the opportunity to test their strength. The people are also given the opportunity to exercise their right to vote.
---
Elections thrust on people
Janatha Vimukthi Peramune politburo member, MP Sunil Handunnetthi
Q: Will your party contest the forthcoming PC elections?
A: yes, most likely
Q: What are your views on the early dissolution of these PCs?
A: The people did not press for early elections which is now being thrust upon them by the Government.
---
Z-score fiasco
Education Minister -Bandula Gunawardena
Q: The Supreme Court pronounced its order on the Z score case. Will anybody be held responsible for this fiasco?
A: I was the third respondent and the Examinations Chief was the first respondent in the case. The Supreme Court judgement has cleared both of us.
Q: It is the examinations department that calculated the Z-Score on the 2011 GCE Advanced Level examination results. Are they not responsible at all?
A: The Examinations Department's Z Score calculations were based on a formula devised by an expert Committee appointed by the University Grants Commission. The Examinations Department is also not responsible.