The seasonal migration of birds
Through the ages, the migration of birds has drawn the fascination of man. It is a phenomenon that comes around twice each year in the autumn and spring. In the Southern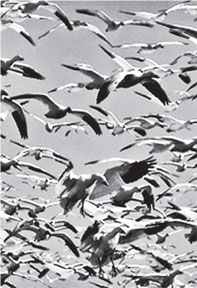 Hemisphere birds start to leave their nesting territories near the Arctic Region or the Temperate Zone and fly south with the advent of autumn (September or October to November). The following spring (March or April to May) they commence their northward flight along the same regular routes to re-occupy the territories they vacated six months before. Although east to west migration has sometime been observed its general direction as a whole is between North and South.
Origin of migration
Various theories have been advanced by scientists to explain the origin of bird migration. But the popularly accepted one is chiefly the difficulties involved in finding their food supply under the adverse wintry conditions that compel the birds to leave their habitats and fly south towards the Tropics, where food is in abundance at all times. Like the swing of a pendulum they return to the starting point when conditions are favourable at home, once again.
There are roughly 30,000 different species and sub-species of birds in the world today and nearly half of them are known to migrate regularly. Broadly speaking, the migrant birds can be classed as animals with two habitats or home territories; one to nest and breed and the other to rest and feed. These habitats are often thousands of miles apart, in different climatic belts and continents. Yet, twice a year they travel between them, usually in scattered parties and occasionally in massive flocks of thousands of individuals. They fly by night as well as by day, over land masses, across lofty mountain ranges and deep valleys, broad deserts, and finally converging on to accustomed routes favoured by multitudes of migrants before them to reach their destination.
It is said that day-flying birds take guidance from the angle the sun shines at the appropriate season to maintain their course, while the night-flyers are undoubtedly guided by the constellations of stars to find their way in the darkness. This is explained by the fact that under an overcast sky night flying migrants often lose their way and come to grief.
Winter resorts
Tropical Africa is by far the most popular winter resort of numerous migrants from Europe and Asia. It has been estimated that nearly a third of all the small birds which breed in the British Isles have their winter quarters in territories to the south of the Sahara desert. Large numbers of birds from Central Asia fly regularly to Africa to escape the riggers of winter, while other smaller birds go to Africa from the Far East. The Alaskan Wheatear and the East Siberian Willow-Warbler annually travel 7,000 miles up and down between their summer and winter quarters.
Between North and South America or Europe and South Africa the Common Swallow covers 12,000 miles twice a year. The Eastern Golden Plover from its breeding grounds in the Arctic regions migrates to Nova-Scotia and then south across the Atlantic Ocean for a distance of 1,500 miles and to the West Indies, thence to the southern parts of South America. In the mean time other golden plovers cross the Pacific to the Hawaii Island, South Pacific Islands and often to Australia.
The longest migratory journey of all is undertaken by the Arctic Tern, which from the artctic winter flies south right across the globe to the Antarctic summer and back again, a distance of 22,000 miles.
Heights
It was formerly theorised that on migration, birds flew at immense heights. Although on account of their special attributes, birds are capable of ascending to higher altitudes, it is now known that migratory birds generally fly at heights under 1,300 feet or 1,000 feet, and still lower over the sea where there are no obstacles to avoid. Yet, when crossing mountain passes they ascend to stupendous heights. For instance, members of an Everest Expedition have met with Crows and Mountain Finches (sparrow family) at 23,000 ft. and Vultures soaring at between 22,000 and 23,000 feet elevations. Sir Edmund Hillary during his successful assault on Everest in 1953 came upon Choughs (crow family) following the climbers at 28,000 feet.
Flying Speed
Scientists have been able to arrive at fairly accurate estimates of the speed of various migrant birds, with the help of modern devices such as radar and speed indicators. Such fast-flying species as ducks and geese have been found to maintain a cruising speed of 50-60 miles per hour or even higher in favourable weather.
It is found that under normal conditions, a bird's flying-day averages from 6 to 11 hours.
The following are some of the non-stop flights on records: Coot 160 miles, Stork 125 miles (6 hrs) Woodcock (snipe) 250-300 miles, Plover 550 miles (11 hrs.) Non-stop flights of 2,000 miles across the open sea are undertaken by the Eastern Golden Ploer. A resident snipe in Japan flies regularly to Eastern Australia and Tasmania in winter covering an enormous distance of 3,000 miles in a single 'HOP'.