SEC chief to proceed with investigations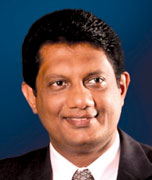 Dr. Nalaka Godahewa who assumed duties as the new chief of the Securities and Exchange Commission of Sri Lanka vowed to continue investigations on controversial transactions by some investors of the Colombo Stock Exchange.When contacted for comments on his new role and plans of the regulatory body, he said that he needs time to study the situation before he speaks to the media.
Dr.Nalaka Godahewa, was formerly the head of Sri Lanka Tourism.
Priyantha Fernando, Sujeewa Mudalige, S R Attygalle (from the Treasury), and Ananda Silva (Central Bank) are the other commission members. Godahewa resigned from George Steuart Finance (formerly Divasa Finance), a firm connected to investor Dilith Jayaweera, who has received letters from the SEC asking for explanations regarding several deals made by his investment firm.
Tilak Karunaratne, the former SEC chief resigned following pressure from investors whose transactions were being probed. Probes into 17 cases were drawing to a close when he was forced to quit.
Influential investors who helped create a stock market bubble with margin loans have blamed the SEC for a subsequent market fall after the credit bubble collapsed taking Sri Lanka's balance of payments and the exchange rate with it.