An exciting school trip
After our teacher announced that we will be going on a trip to Kandy, we waited excitedly for that day! We were supposed to be at school at 5.30 a.m. My mother woke me up at 4.00 a.m. Everyday my mother wakes me up by calling me many a times but that day I woke up with the first call. My mother made some macaroni topped with sauce and roasted chicken for me. My dad took me to school.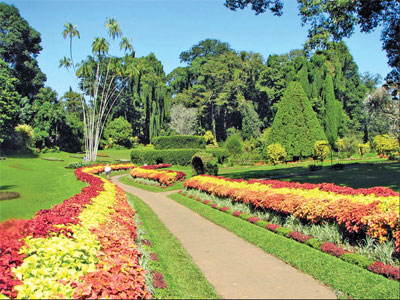 We had to wait in line with our partners to board the bus. Usman Faris sat along side me. Once we climbed onto the bus we waved goodbye to our parents.
On the way we saw the parliament at Sri Jayewardenepura, Kotte. It was glistening in the light of the morning sun. We took photos of it. Then we passed Malwana which is famous for rambuttans. We also passed Yakkala which is famous for pineapples and many other towns.
We visited the Pinnawala Elephant Orphanage. We saw the elephants bathe in the river and drink milk. It was fun. Some baby elephants sprayed water on their friends with their trunks. It was interesting to watch them at play.
Finally we arrived in Kandy. We visited the Hantana tea museum first. A woman worker explained how the machines operate to produce the tea. We bought souvenirs and had lunch in the garden of the Hantana tea museum. We spread out the picnic mats we took with us and had lunch. The last place we visited was the Peradeniya Botanical Gardens. There were many large trees and some of the most beautiful flowers that I had ever seen. Monkeys jumped from tree to tree and some even followed us. At the Peradeniya Gardens even the teachers took photographs.
We got onto the buses once we saw the garden. We were very tired so some of us slept. We arrived at school by 10.30 p.m. The teachers gave us souvenirs of elephants. Our parents were anxiously waiting for us. They all hugged and kissed us as soon as we got off the bus.
It was an unforgettable and enjoyable day especially as we went with friends. I am waiting for another opportunity like this.
---
An educational trip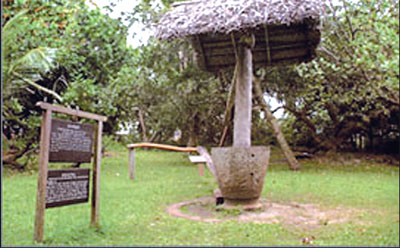 A trip to Martin Wickramasinghe museum was organised by the school recently and it proved to be really interesting. It was one of my dreams to visit this place.We left school at 6.30 in the morning. Three teachers accompanied us. My friends and I sang and enjoyed ourselves during the journey.
We reached the Martin Wickramasinghe museum at 11.30 a.m. The museum is located about 12 kms away from the Galle town so we saw the Koggala Airport on the way.
Martin Wickramasinghe, the famed literary personality was born in Malalgama on May 25, 1890. His first Sinhala book entitled Balopadeshaya was published in 1903. The book contains many interesting folk poems.
We saw many interesting things in the museum such as items connected with puppetry, folk entertainment, sports, the practice of indigenous medicine and household items. We also saw some beautiful ancient jewellery and attire, the kitchen of an old village home and how industries such as metal, rubber, cinnamon, coir and gem cutting operated. We also got an insight into the fishing and agriculture industry of the past .
Evolution of the Sinhala language, folk practices and traditional vehicles were also highlighted at the museum.
There were some modes of travel used by the people in the past on display. They were the buggy cart, Negombo buggy cart, hand cart, bullock cart with the canopy, elephant cart, horse carriage, racing cart, normal bullock cart, kerosene oil cart and fishing boats.
After viewing the numerous items at the museum we visited Martin Wickramasinghe's samadi and ancestral home and saw the ancient sekkuwa too. There were many trees valuable in the garden .
We learned many things from this museum. The teachers explained things of historical importance that were on display at the museum. We noted down some of the interesting historical facts on various subjects as the details would help us immensely to improve our knowledge of many subjects included in the school syllabus.
The great author who has left us such a great legacy died in Colombo on July 23, 1976.
After an interesting tour, we started our return journey home. We left after lunch and reached our school at about 7.00 o'clock. It was the most unforgettable educational tour I've ever made in my life.
---
A journey through the jungle
It was to the 'Wasgamuwa National Park' that I journeyed through the jungle recently. An uncle of mine organised the wonderful trip. We travelled by bus. There were 20 of us and we were all relations. My uncle had booked a hotel close to the park. We started our journey from home very early in the morning. It was late in the evening when we finally reached Wasgamuwa.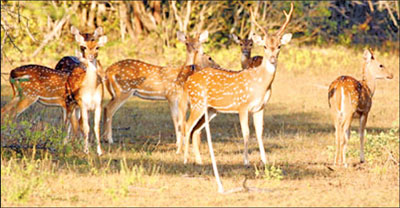 After refreshing ourselves, the older cousins played cards until dinner time while the cousins of my age had a great time skating, as there was a big slant on the floor. After dinner we slept as we had to get up early morning the next day to watch the wildlife in the park.
We saw wild elephants, beautiful peacocks, frightened deer and various kinds of birds. All of a sudden a big herd of elephants blocked our path. We were travelling in three jeeps and the drivers immediately stopped the jeeps. We were all very frightened. All the small children started crying. Our parents covered our mouths with there hands so that the elephants won't be disturbed by the noise. We were praying to the Buddha to save us from any harm. Although it was an unpleasant experience at that time, now I think of it again and again without any fear.
After about half and hour we returned to the hotel safely. We came home the following day. Despite the incident with the elephants, it was an interesting and an enjoyable journey.
---
Reading, a great hobby
Reading is a very good hobby for people of all walks of life; tachers, students, parents and even elderly people. It is an entertaining past time for convalescents as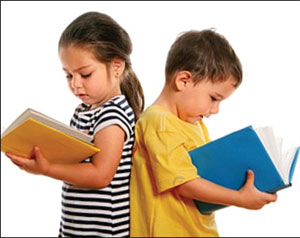 well.We have access to grammar, language, spelling and expressions when we read. Furthermore knowledge and entertainment can be gathered through this habit of reading.
There are various kinds of reading materials such as novels, science books, literature, storybooks and comics. Magazines and newspapers are a good source of news and information. Of course all of these aren't good reading material for all ages. Adults should guide the children to select what is good for them.
We have access to reading materials in school libraries and public libraries. Unfortunately the modern generation has neglected this valuable habit of reading. Most of them have got addicted to watching TV, using computers and mobile phones. They are no doubt important items nowadays, but not to the extent of dropping the very valuable habit of reading through which we could gather so much of knowledge.
I think it is our paramount duty to indulge in this excellent habit of reading for at least an hour or so a day. There is a great saying that 'Reading maketh a full man.' So, let us start reading today and become useful people to society. The more you read the more you gather knowledge.
---
Road safety
Road safety has become a major problem today with many accidents occurring throughout the island. Roads are not safe because people don't follow road rules.
Pedestrians must be careful and pay attention when travelling on the road. They must cross the road only at road crossings which are called zebra crossing. When there are under ground crossings or under passes, they must cross from those places only. They must observe the traffic lights too. They must always walk on the right side of the road using pavements wherever they are available.
When a motorist applies for a driving licence, he is given a test on road signs and signals. Therefore, a motorist is aware of all the road signs and signals. So, when he's driving a vehicle he must always follow them. Then only driving will be safe.
A motorist must always maintain the correct speed. There are different speed limits for the city and outstation. They must not exceed the given speed limits. If they drive fast they will find it difficult to control the vehicle in an emergency. For example, if a person or an animal jumps across the road suddenly, the motorist will not be able to apply the brakes on time if he's speeding.
Cyclists too should go on the side of the road and never in the centre. They also shouldn't go fast. When they are travelling in the night, cyclists should always have lights on the cycles.
It is the duty of everyone to observe road rules and minimise accidents.
---
My country
My country is Sri Lanka. It is very small.
My country is an island.There are many races and religions in Sri Lanka.
The capital of Sri Lanka is Sri Jayewardenepura, Kotte.
I love my country.
---
I love elephants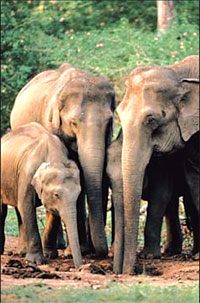 The elephant is a very large animal. It is a herbivorous animal which has a good memory. It can run fast. The elephant lives for about 70 years.
People use elephants in processions. There are about 5000 elephants in Sri Lanka.
An elephant has a large body and a small head. It has two big ears and small eyes. It has a long trunk. It is grey in colour.
The elephant likes to eat leaves, coconuts and plantains very much. It likes to play in the water. Children love elephants very much. When people destroy forests, elephants come into the village in search of food and water. Sometimes villagers kill them. It is not good to kill elephants. I love them.