Wijayapala Mendis passes away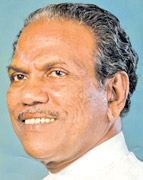 Former Minister and founder member of the United National Party Wijayapala Mendis (84) passed away yesterday at a private hospital. Born on December 16, 1928, Mendis studied at Maris Stella College and Harishchandra College, Negombo. He later took to planting and business.
In 1953 he became the owner of the Kelani Valley Transport Company. He had roots in the UNP since its inception and played a major role in the partyís youth leagues. In 1954 he won a seat in the Negombo Municipal Council and became the Mayor, creating a record as the islandís youngest Mayor.
During the elections in March and July 1960 he won the Katana seat. Having won the same seat in 1965 he became the Parliamentary Secretary to the Minister of Public Works, Post and Telecommunications. Except for a defeat at a by-election in 1970 he represented the seat throughout.
He was the Minister of Textile Industries in 1977 and in 1989 he became the Minister of Transport and Highways. He initiated the broad gauging of the Kelani Valley railway line up to Avissawella. He also commenced the Matara Kataragama railway line.
After the defeat of the UNP in 1994 he became the Chief Opposition Whip in Parliament from August 25, 1994 and served in that capacity till July 21, 1998. He joined the Peoplesí Alliance Government in 2000 after forming the UNP alternative group along with Dr. Sarath Amunugama, Nanda Mathew and Susil Moonasinghe.
After the 2000 General Election he became a Minister without Portfolio. But at the 2001 December election he lost his seat. He remained actively engaged in political and social work.
-RW