Finco Group to open Uga Bay resort in Pasikudah
Uga Resorts of the Finco Group is hoping to buy a blocks of land to set up luxury resorts in the Southern coastal belt, Kandy and Nuwara Eliya areas said Uga Resorts Managing Director, Priyanjith Weerasooria at the re-launch of Uga Resorts on Wednesday.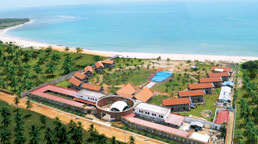 Uga Resorts was re-branded as Uga Escapes.
Weerasooria said that the company is hoping to purchase land between Tangalle and Hikkaduwa to set up a hotel to cater to the high-end tourist market. The company also plans to invest on land to build hotels and resorts.
"We hope to increase the number of rooms to around 200 to cater to the niche market. Our hotels are patronised by American, European and Russian tourists," he said.
The Finco Group which consists of several subsidiary companies, was founded by Finco Limited which was incorporated in 1963. The Finco Group is engaged in diverse fields of activity.
The companies within the Group have been clustered under trading, construction, manufacturing, service sector, office automation, IT and leisure.
Uga Escapes will launch its beachfront luxury boutique resort, Uga Bay in Pasikudah by the end of this month. Work on the resort is nearing completion, Weerasooria said.
The hotel built at a cost of Rs. 850 m comprises 46 spacious rooms, a bay suite and a beach chalet on a nine-acre block of land in the Eastern coast. Uga Bay equipped with modern amenities offers a spectacular ocean view for those who need to relax on the beach Weerasooria said.
The Eastern coast which has some of the world's finest beaches for wind surfing and whale watching is a hot spot for tourists.
A tourism development zone has been set up in Pasikudah which is popular for its serene and clean beaches. The Maalu Maalu resort was set up by the Connaissance Group.Weerasooria said that the occupancy rate in all its resorts is around 35 percent which has been growing year-on-year. The Ulugalla Escapes, a luxury hotel in Anuradhapura is the flagship property of the company, built with a Rs 1b investment in 2010. The hotel comprises 25 chalets.
The hotel is the brainchild of Group Vice Chairman, Harsha de Saram who restored the grand ancestral home to its former splendour offering a glimpse of the bygone era while incorporating a green and sustainable concept.
The Jungle Beach resort in Kuchchaveli set up at a cost of Rs. 850 m has 48 chalets. The hotel was opened in June this year.