Pre-historic kings and queens of Sri Lanka
One may wish to know who were the kings and queens of Sri Lanka after the reign of Emperor Ravana. Sri Lanka had been a model of a salubrious country all over the world during the days of Emperor Ravana 7500 BP. According to Walmiki the Sanskrit poet of Ramayana of international fame Sri Lanka had been a country having a fascinating architecture and electricity.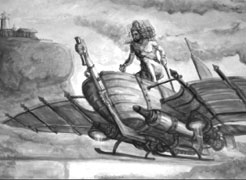 So, Ravanakatha, an ancient ola manuscript of Millawa Vannibandara Rajaguru Mahakappina Wickramasinghe Adigar of Murunda Dynasty says that Sri Lanka had a well established aircraft service and a navy very powerful in the Indian Ocean.
But as a result of a great war between Rama and Ravana Sri Lanka lost all her wealth and power and became a poor country depending on powerful nations.
Navy
Therefore, Sri Lanka was prohibited to keep a navy and airforce by other powerful countries. So, after the demise of Emperor Ravana, Vibhisana his step brother came to power. He was a puppet ruler under King Bharatha of North India. The Vibhisana dynasty held sway for a long period of 500 years. According to Ravanakatha ola manuscript there were seven kings in the Vibhisana dynasty.
The last king of Vibhisana dynasty was assassinated by a prince of Emperor Ravana's clan and asended the throne as Ravana II. Thereafter 14 kings of the Ravana dynastry ruled Sri Lanka.
The Ravana kings were brave and independent rulers. They had international support. Perakumba Sirita, an ancient poetry book of Sinhala classic, states that a few kings in pre-historic Lanka as "Nahuta, Sankita, and Panita".
They ruled Sri Lanka as Vibhisana I, Ravana V. Later the European Kings too followed this style.
Sri Lanka had a chain of 16 dynasties and 134 kings and one queen. Kuveni was the last of Hela ethnic group. According to a certain ola book Wijaya was the leader of a mercinary which brought to help Kuveni. The invasion of foreign powers took place after Kuveni.
Sixteen dynasties and 135 kings ruled ancient Sri Lanka according to The Ravanakatha, the oldest ola manuscript of Nilgalla Walauwa.
Ravana
Vibhisana I came to power after the demise of Emperor Ravana, the Vibhisana dynasty had seven kings and they governed a part of Sri Lanka including the whole coastal belt.
The founder of the Wiramunda dynasty was a relation of Emperor Ravana. They succeeded the Ravana dynasty. The Wiramunda dynasty had five kings. Dedimunda, a step-brother of Wiramunda V. assassinated Wiramunda and enthromed himself as Dedimunda I. There were seven Kings of the Dedimunda dynastry. Thereafter, a great grandson of Ravana the 14th came to power as Murundai.
All the royal families were connected to each other, there were 14 kings of Murunda dynasty. Murunda dynasty followed was by Desha dynasty which had only two kings and lost, as they were too weak. Thereafter, the Wardhana dynastry came to power.
Wardhana I was a nephew of the last Murunda King. Although the Wardhanas were a new dynasty they had connections to all previous dynasties who had governed ancient Sri Lanka. The Sakka dynasty came to power after the Wardhanas. They had 15 kings. The Sakka was a mixture of Persian Devas, Kumbhanda was the other name for Devas.
The Sakka dynasty was followed by the Sekaras who had nine kings. They had and ethnic connection with the Nagas. The Sekara dynasty was followed by Thilaka dynasty which had seven kings.
Again the Murunda dynasty became powerful and governed the country. For the second term they had only 10 kings. In all there were 24 Murunda Kings. The last King of Murunda clan fled to Pumdu Kingdom, Mangalore and ruled for a short time. The Natha dynasty succeeded the Murunda dynasty and they had 12 kings. Thereafter a branch of Ravana dynasty named the "Singha" dynasty ruled Lanka.
Eight kings of the Soorya dynasty, connected to Vibhisana, came to power. The Varna dynasty had 12 kings. The last dynasty was Bamba dynasty which had three kings and one queen Kuveni was the last of Hella dynasties.