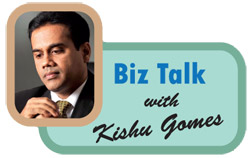 You want to win? Compete against yourself - not against others
There are two key forms of competition in the world - competing against others and competing against yourself. By nature, when the word competition is heard we see others and tend to look outward to win. Also, a win can be measured in two ways; your own progress relative to your past performance and your performance relative to others.
Did you ever realise that in either, progression is all about getting better at what you do that ensures improved performance to individually excel or beat others. Take a look at your own journey so far. What made you a winner or a looser finally? Your own level of ability - wasn't it?
Expecting more
This is why my first love is Athletics - common among athletes is 'competing against yourself'. It is expecting more of yourself each time you practise, until you finally meet in competition with others and demonstrate your relative capabilities. The athlete wins whether he or she wins the competition or not because if you have improved timing, jumped higher or longer you have done better. All you have to do is to keep on doing better to reach a level which goes beyond the best performance of others who are to compete against you.
Competing against yourself is about self-improvement, and it's about being better than you were the day before. So the principle is compete against your weaknesses and not against other's strengths. Simply put; to compete against others successfully you need to improve your own capabilities.
The moment you begin to measure your progress against another person and use that to decide whether or not you're doing well, you do yourself more harm than good for one big reason: Your reference point becomes that person. So you may tend to only push yourself as much as it takes to keep up with - or stay ahead of - him or her. Now that's not good enough because you might have the potential to do better than he or she might ever be willing to do - going this way will therefore make you miss being your possible best.
Practise healthy rivalry
Some people believe it is good to maintain a healthy rivalry with another person. Sometimes, however, the line between rivalry and negative competition can get dangerously thin - depending on the attitudes of the people involved. My personal experience working with people for long years makes me believe that not all of us are ready to practise healthy rivalry yet. And I don't know if we ever will do it right. Too many of us seem to thrive on measuring ourselves against others as a means of judging our level of success.
Nothing should stop you from staying up to date with others who do what you are doing - especially if they are currently better than you are in the same area. Neither would it be wrong to explore ways to learn how they achieved that level of success, nor would it be bad for you to set yourself a challenging goal of matching or exceeding whatever achievement he or she may have got, to improving yourself.
Progress
The 'beating others' mentality - in the long term - does not work. You need to ensure that in 'monitoring' others, you do not begin to tie your progress to their own progress - or lack of it.
So, compete against yourself. Define a target to achieve each day. Work towards it diligently and return home at night to evaluate your performance. On the next day, try and do better. You will never lose your motivation; neither will you nurse negative, mind-destroying emotions if you use yourself as your own standard or reference point.
Happier life
Apart from sustainable progress, among other benefits of this principle is that you will never feel unduly threatened or anxious, because you will only have to review your current achievements at any point in time against your previous ones - and not anyone else's. And it's your own journey so you make the call - don't you feel relived already - try it. You will have greater success and a well-balanced life going forward.