observer
ONLINE
---
---
OTHER LINKS



News in Pictures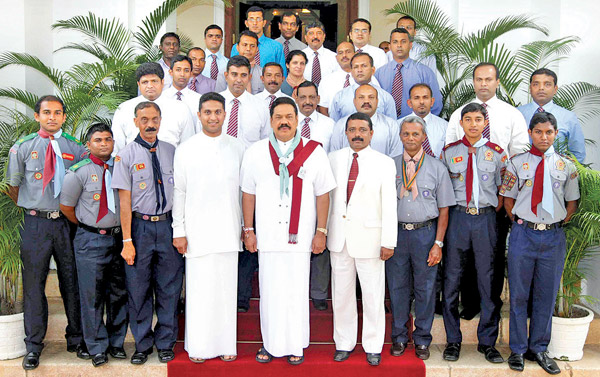 The official badge of the Rajans International Scout Gathering of Centennial 2013 (RISGO) was pinned on President and Chief Scout of Sri Lanka Mahinda Rajapaksa by the Principal Dharmaraja College, S.M. Keerthiratne at President's House in Kandy recently. The RISGO Scout Jamboree organised by the 1st Kandy Dharmaraja Scout Group and Old Rajans Scout Association to mark College's 125th anniversary and the centenary of the establishment of its scout troop will be held at the Lake View Park International Scout Centre, Kandy with the participation of scouts from 60 countries from February 18 to 22, 2013. Here President with the officials of RISGO and Parliamentarian Eric Weerawardene.
---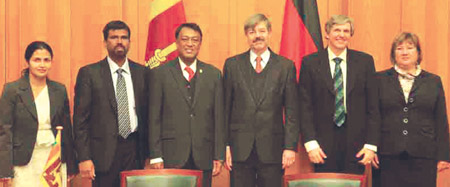 An agreement between the Government of Democratic Socialist Republic of Sri Lanka and the Government of Federal Republic of Germany was signed in Berlin for the gainful occupation of dependents of members of Diplomatic Missions and Consular Posts of Sri Lanka and Germany. Ambassador of Sri Lanka for Germany, Sarath Kongahage on behalf of the Government of the Democratic Socialist Republic of Sri Lanka and Director General, Central Services of the Foreign Office, Hans Carl Freiherr von Werthern on behalf of the Federal Republic of Germany signed the agreements. Upon signing, the agreement will enable the dependents of members of Diplomatic Missions and Consular Posts of Sri Lanka and Germany to work in the respective countries.
---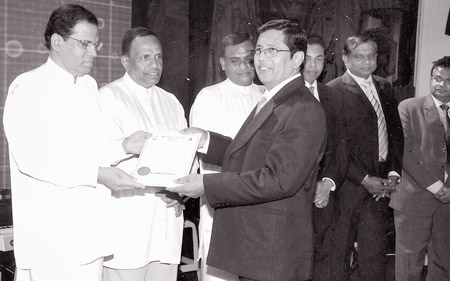 Hettipola KMG Suwaseva Hospital of the Kurunegala District adjudged the best at the competition held among private hospitals of both Kurunegala and Puttalam Districts of the NWP. Here Maithripala Sirisena, the Minister of Health is handing over the certificate of excellence to K.M. Gnanathilake, the Managing Director of KMG Suwaseva Hospital. Asoka Wadigamangawa the NWP Provincial Minister of Health was also present at the
occasion. Pic: S.M. Wijayaratne – Kurunegala Cor.
---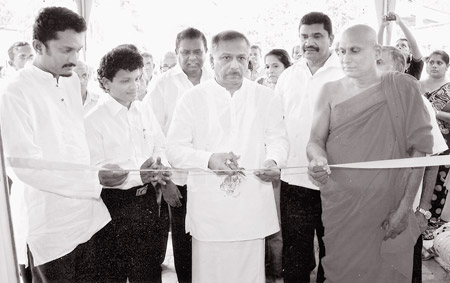 The newly built Makumbura death donation and welfare society building at a cost of Rs.4 million was commissioned by Water Supply and Drainage Minister Dinesh Gunawardane recently. The Chief incumbent of Makumbura old temple Ven. Boralesgoda Indarathana Thera, Provincial Councillor Salochana Gamage and Maharagama Urban Councillor Jagath
Pathirana were also present. Pic: Wehella Piyathilake, Maharagama Special Cor.
---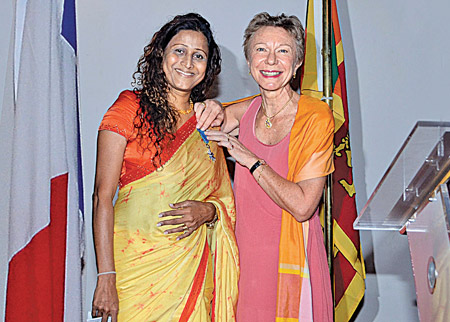 Leading woman entrepreneur and Chairperson of the Women's Chamber of Commerce, Vidyani Hettigoda was conferred the French title of Chevalier de l'Ordre du Mérite (Knight in the Order of Merit) at a ceremony held at Mt. Lavinia Hotel recently. Here French Ambassador in Sri Lanka, Christine Robichon presents the title on behalf of the President of the Republic of France, François Hollande.
---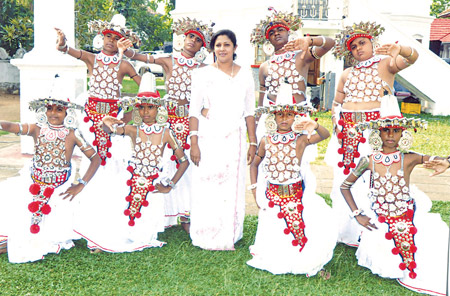 Eight students of the Hansaja Dance Institute, Terran Dhanushka, Dilanka Lakshan, Pasindu Malshan, Sadesh Surendra, Kasun Thathsara, Pehesara Maheshakya, Thilina Deshan and Supun Sakuna with their dance tutor, Sanjali Thejani at the Ves thabeeme (Dressup) ceremony held at the Kotte Raja Maha Viharaya recently.
---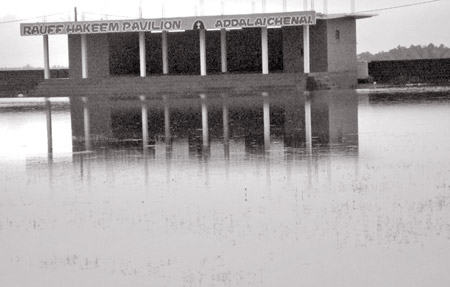 The Addalaichenai Public Playground in the Ampara district is under water following heavy rains for the past few days. Pic: I.L.M. Rizan, Addalaichenai Central Corr.