United Dendro plans Rs 100m power project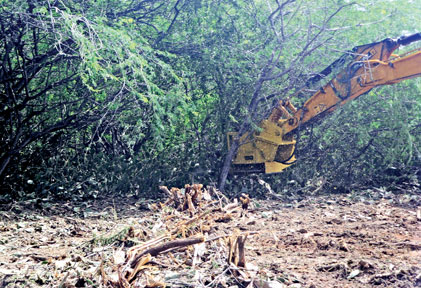 To preserve Bundala National Park, United Dendro (Pvt) Ltd, a subsidiary of the LOLC Group, in collaboration with the Department of Wildlife Conservation initiated a program to eradicate two invasive alien plants 'Prosopis Juliflora' and 'Opuntia Dillenii' around the tidal plains in Malala and Embilikala.
The project will attempt to clear454 hectares of infected land within five years.
"The extracted plants would be used for the production of electricity, which would be connected to the country's national grid.
"We have a power purchase agreement with the Ceylon Electricity Board and we hope to purchase land to commence a re-usable plantation. This will be a Rs 100 m project and the plant at Devundera is already contributing 10 mw to the national grid," LOLC Deputy Chairman Ishara C. Nanayakkara said.
The planned power plant will be operational within 18 months and hope to register out-growers to supply Giriseria plants on a continuous basis to sustain the power generation process, he said.
The spread of these invasive plant species has been facilitated by meandering livestock herds.
The permeation of these viral plants within the Bundala National Park has resulted in habitat destruction of its endemic species and has posed a threat to the park's bio-diversity.
Parallel to World Wetland Day which fell on February 3, a Wetland Laboratory was opened last week.
This is a collective initiative by the Department of Wildlife Conservation, UNESCO Sri Lanka and Ramsar Convention of Asia-Oceania Region with a Rs 2 b investment.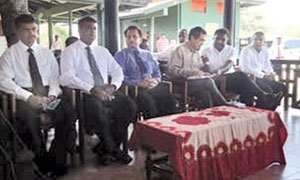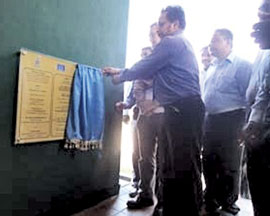 The setting up of a wetland laboratory and eradication of invasive plant species within the Bundala national park has been identified as an initiative of national interest.
Comprising of arid low country geographical terrain, Bundala is synonymous for its luscious flora and fauna. Brackish water, salt pans, mangroves, lagoons, lakes and salterns are some of the key land features visible within the park.
A large number of migratory bird species are known to frequent the Bundala national park during winter time in the Northern Hemishpere, which in-turn draws a large number of foreign and local tourists to the park annually.
Bundala, subsequent to having declared as a sanctuary in 1969 under the Flora and Fauna Act was re-designated a national park in 1993. Situated in the Hambantota district, the Bundala national park covers an area of 3,698 hectares.
It is the only national park that is incorporated into the global list of Ramsar wetlands. It is also a UNESCO declared man and biosphere reserve since 2005.