'Offshore English' invading us!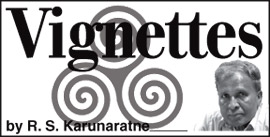 So long as English remains the common language of international business, non-native speakers should learn how to communicate with native speakers effectively. Although non-native speakers have not made a concerted attempt to improve their language skills, native speakers are experimenting with 'Offshore English' to reach millions of non-native speakers.
Britons, Americans and Australians who are monolingual have no difficulty in communication. However, if a Briton, American or Australian wishes to do business with a non-native English speaker, he should be ready to face many obstacles in communication. According to Chris Fox, an international training and development consultant, businessmen are losing substantial sums of money due to communication problems in the English speaking world.
A recent study says that 58 percent of non-native speakers found native speakers difficult to understand. About 56 percent of non-native speakers felt that they were making an effort to communicate in a foreign language. On the other hand, about 60 percent of non-native speakers believe that native speakers of the language use their linguistic superiority to gain undue advantage. It is strange but true that there are two different "Englishes" used in global business.
Risk of misunderstanding
According to Chris Fox, the version of English used by non-native speakers can be called 'Offshore English.' It is English sans the words and expressions that non-native speakers find difficult to understand. Native speakers of English may not find it exceptional or elegant. Sometimes, it can be jarring to the native speaker's ear. However, Chris Fox believes that Offshore English may reduce the risk of misunderstanding and confusion. In fact, he promotes Offshore English as the true lingua franca of international business.
Native speakers of English have come up with Offshore English simply to understand non-native speakers doing business with them. Americans, Britons and Australians are trying to understand the kind of English we speak and write. They are also trying to break communication barriers to reach non-native speakers in a warm atmosphere.
The standard of English in local examinations have come down to such a low level that students pass GCE Ordinary Level and Advanced Level examinations simply answering multiple choice questions. Today, students are not encouraged to speak or write grammatically. As a result, they pick bits and pieces of English in schools and tutories, which is just enough to pass examinations.
Higher studies
Today, we have produced a generation of lawyers, doctors and other professionals who are utterly incompetent in English. The lack of a good knowledge of English has prevented many students from pursuing higher studies. The invention of Offshore English shows that non-native speakers have failed to grasp the nuances of the language. In the 1950s and 60s, the local standard of English was on a par with the language used in England. There was no misunderstanding or confusion when we communicated with native speakers. Many Sri Lankan teachers migrated to the United Kingdom, United States and Australia to teach English. However, the scene has changed drastically today.
If a native speaker asks you, "What do you work for?" a non-native speaker may not understand it quickly. So, Offshore English suggests that native speakers should ask: "What's the name of your company?" Ah! that's easy to understand! Some local teachers have already started teaching Offshore English. For instance, expressions such as the following could be heard today. "What is your age?" for "How old are you?"; "What is your Nangi's age?" for "How old is your younger sister?"
Phrasal verbs
Most non-native speakers of English are clueless about phrasal verbs. When a native speaker says, "I'm not getting on too well with the new supplier," the meaning is not clear to the non-native speaker. So, the former will have to say, "My relationship with the new supplier is not good."
The very fact that native speakers are experimenting with Offshore English shows that we have not studied English properly. All of us have to share the blame for not doing justice to such a beautiful language. As Oscar Wilde said, "We know the price of everything and the value of nothing."