The strong nexus between peace and culture
The fortunes and misfortunes of humans are decided by what they do. Good actions flow from wise and righteous people and bad action emanates from those who are not morally goods.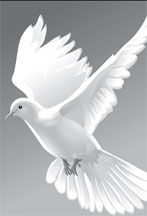 With 'Divine intellect' (an intellect free from selfish emotions) a human being can bring great fortunes and lasting happiness not only for himself but also for all the others in society.
The Buddha said only virtue can give us eternal happiness. Virtue is spiritualism which is equal to humanism. Humanism blossoms in harmony leading to peace. The joys of peace can be ours only when we critically look at life with an open mind.
Culture
Our culture is one of the oldest in the world and for centuries it has maintained its unique identity. On the basis of this uniqueness, it has been the centre of attraction for the people all over the world.
It has a broad and exemplary view pertaining to peace.
Our culture has played an important role in making and developing our view of peace.
Origin
The word culture is derived from the Latin word 'Cultura' which stems from 'Colere', meaning 'to cultivate' creation signifies development.
Therefore, the cultural advancement of a community or nation is gauged by its development in different spheres of life such as intellectual growth and refinement of mind.
From the eastern viewpoint culture means "Samskriti' derived from the word, 'Samskara'.
It specifies Human inclination, activity and development. It signifies mental attitude of man.
Culture is an indicator of social values and aspirations of the people.
Man's culture has a long history of 6,000 years. Ahimsa or non-violence, and appreciation of human values, and a host of other matters have enriched culture. One of the most important characteristics of culture is harmony which helps people of diverse communities to live in peace.
Evolution
Culture is in the melting pot. Cultural values change from time to time. As a result, what is thought to be moral in one age may appear to be immoral in another era.
Culture has a strong impact on peace. In fact, the concept of peace started at an individual level. Gradually it expanded to embrace large communities and whole nations.
All efforts by the people for the advancement of peace have always been of utmost importance.
Individual efforts work as the, foundation stones in constructing a building of peace.
The efforts also become the source of inspiration for others who go forward towards the building of a peaceful society. The efforts made by Gautama Buddha at the individual level prove this fact.
As we know peace is considered the state opposite to conflict and struggle. It is also accepted as an atmosphere free of conflict, war and violence. It is true that there is absence of conflict war and violence in the state of peace, but peace is not limited only to this state.
Besides becoming completely free from conflict, war or violence, what is required for peace is to have cooperation and harmony in human affairs. The next stage is to open equal opportunities to enjoy freedom for everybody. Peace in society will remain a dream.