Compendium of songs on Jathaka stories
Jathaka Geetha Sangrahaya
Author: D.V.J. Harischandra
Vijitha Yapa Publications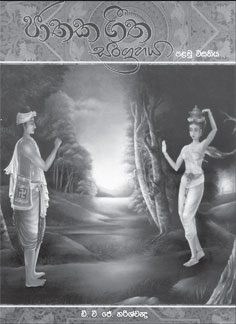 Dr. D.V.J. Harischandra needs no introduction to Sri Lankans. He is a well acclaimed psychiatrist for well-nigh five decades. He has rendered yeoman service to the nation.
His first book entitled psychological aspects of the Buddhist Jathaka Stories published in 2000 was an analytical study which penetrated into the inner aspects of the Buddhist Jathaka Stories. His book was well received by a wide array of readership. It won the State Literary Award.
"No one has delved with such a consummate insight on the workings of the human mind" wrote Julius Ketzer, the translator of the Russian novel Fyodor Dostoyeveky's Crime and Punishment.
Harischandra with his rare uncanny, whirlwind romance in psychiatry and classical Hindi music has left an indelible imprint by releasing an audio CD which contains 20 songs with a consummate insight into the workings of the human mind. In all the songs, the lyrics have been written by him culled from the Jathaka Stories for 20 Hindi enchanting tunes of well-known musicians. Eleven of them belong to celebrated Noushad Ali's immortal hits. The audio CD is accompanied by a book which runs into 122 pages in which each Jathaka story is provided with a captivating colour painting portraying the story drawn by Nimal Dharmasiri, an art teacher at Mahanama College. The cover of the audio CD and the book adorned with a magnificent scene from the Ummagga Jathakaya is an excellent work executed by an artist who deserves recognition, Nishan Jayalath Wijerathna of Ambalangoda, better known for his pandal drawings.
The audio CD accompanied by a book is the first of such a series. Releasing an audio CD with a book of lyrics on the Jathaka Stories is a novel concept. Songs based on Jathaka Stories were known to Sri Lankan Buddhists mostly through Vesak and Poson pandals. The audio CD and the book of lyrics entitled Jathaka Geetha Sangrahaya will be a solace to the people in all walks of life. The most remarkable feature of the audio CD is that a host of amateur artistes have come into the limelight.It was Alexander Pope who wrote: "One science shall one genius fit so vast is art and so narrow is human wit". Harischandra is an exception to these words of Pope. Dr. Harischandra's book Jathaka Geetha Sangrahaya and the audio CD will have a healing effect on the body and mind.