Sokari in Kandy
Jaliya Rajapakshe's Sokari will be staged at the Kandy Hindu Cultural Centre auditorium, Kandy on February 15 at 8.15 a.m. and 10.45 a.m.
---
Ira, Handa, Tharu at Musaeus College
Victor Rathnayake and his children will present a musical evening entitled Ira, Handa, Tharu at the Musaeus College Auditorium, Colombo 7 on February 18 at 6 p.m. The music will be directed by Jayantha Rathnayake. Choreography is by Neelamani Dissanayake.
---
Gabbara Minisa goes to Punchi Theatre
Sriyantha Mendis' Gabbara Minisa will be staged at the Namel-Malani Punchi Theatre on February 16 at 3.30 p.m. and 6.30 p.m. The cast includes Sriyantha Mendis, Kusum Renu, Sarath Kothalawela, Wasantha Vittachchi, Malkanthi Jayasinghe, Sujeewa Priyalal and Mihiri Priyangani.
---
Toyota Gee Dehena
A musical evening entitled Toyota Gee Dehena will be held at the BMICH on February 16 at 7 p.m. The proceeds will be in aid of charity.
Victor Rathnayake, Amarasiri Peiris, Pradeepa Dharmadasa, Sashika Nisansala and Kasun Kalhara will participate in the musical show.
The music will be directed by Susil Amarasinghe. Choreography will be done by Ravibandu Vidyapathy. Vasantha Rohana will compere the show.
---
Tharavo Igilethi at Tower Hall
Lucian Bulathsinhala's popular drama Tharavo Igilethi will be staged at the Tower Hall today at 3.30 p.m. and 6.45 p.m.
The cast includes Rodni Warnakula, Gamini Samarakoon, Harsha Bulathsinhala, Niroshan Wijesinghe, Piumi Shanika, Ferni Roshini and Anura Bandara Rajaguru.
---
Ravana Adaraye Husma Langa at Lumbini
The Leo Club of Mahanama College, Colombo will stage Ravana Adaraye Husma Langa at the Lumbini Theatre on February 12 at 3.30 p.m. and 6.30 p.m. The cast includes Saman Malalasekara, Samantha Parana Liyanage, Vijith Bandara, Stefan Dilruk, Jayampathy Guruge and Prabhath Mahendra.
The play is directed by Amila Sapumal.
---
Agni Warsha Muhurath ceremony
The Muhurath ceremony of the film Agni Warsha produced by Dr. Arosh Fernando and directed by Nalaka Vithanage was held at the Colombo Hilton recently.
This is the third film directed by Nalaka Vithanage and the second production of Dr. Arosh Fernando. The co-producers were Nimal Karunaratne and Nalaka Vithanage.
The cast includes Geetha Kumarasinghe, Ranjan Ramanayake, Palitha de Silva, Anusha Damayanthi and Himali Siriwardena.
---
Kalukumari goes to Lumbini Theatre
Peradeniya Sarasavi Mithuro will stage K.B. Herath's celebrated play Kalukumari at the Lumbini Theatre, Havelock Town on February 15 at 6.30 p.m. The proceeds of the play will be spent on student and alumni welfare.
The cast includes Sumith Ratnayake, Madhini Malwatta, Nalin Pradeep Uduwala, Ferni Roshini, Chandrasoma Binduhewa and Bandula Vithanage.
Music will be provided by Shantha Perera and the make-up artistes are Buddhadasa Galappaththi and Prakash Galgewalage. Bandara Eheliyagoda produced the play.
---
Assens Boys' choir due in Sri Lanka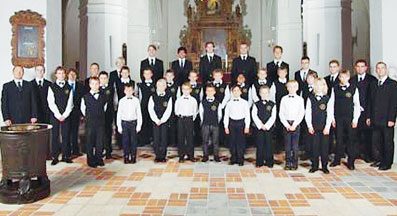 The Assens Boys' choir with a 152-year history will arrive in Sri Lanka to present a series of concerts organised by St. Joseph's College, Colombo 10, said choral Director Francis D'Almeida.
He said the 42-member choral ensemble consisting of boy sopranos and Altos with young men in the Bass and Tenor categories, have won acclaim by performing in USA, UK, Czech Republic, France and Brazil.
The program of concerts is as follows:
The Assens Boys' choir will present the first concert of sacred songs at St. Joseph's College, Colombo 10 at 5.30 p.m. on Sunday, February 17 under the title Anno Fidel. St. Cecilia's Choir of St. Joseph's College will provide a segment of classical sacred songs.
The Senior Choir of Good Shepherd Convent will also be featured. There will be a combined presentation of classical/polyphonic compositions by the Danish and Sri Lankan singers. They will sing at Maris Stella College, Negombo, on Monday, February 18 at 5.30 p.m.
Maris Stella College, Ave Maria Convent and Speranza (Mixed Choir) Choral Ensemble will also participate. All local choirs will be featured in a combined presentation with the Assens Boys' choir.
The Assen's choir will present a concert at Trinity College, Kandy at 5.30 p.m. on Wednesday, February 20.
The visiting choir will present a program in Nuwara Eliya at the Catholic Parish Church on Thursday, February 21 at 3.30 p.m.
The grand finale will take place at 5.30 p.m. on Sunday, February 24 at St. Joseph's College, Colombo 10. The Assens Choir of Denmark will be featured separately and will later join the local Catholic School choirs of over 500 singers in a choral finale, he said.