Govtís decision to deploy Security Forces in development commended
Senior Minister for International Monetary Cooperation and Deputy Finance and Planning Minister Dr. Sarath Amunugama said that the Governmentís decision to deploy the Security Forces in national development was good.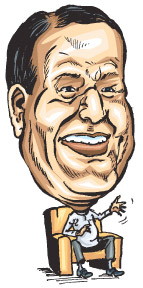 Commenting on the contribution by the Sri Lanka Army to save Rs. 1,500 million last year for labour in health, education, sports and urban development projects, Dr. Amunugama said this was one of the positive developments in the country where the Security Forces had been deployed in national development under the leadership of Defence Secretary Gotabaya Rajapaksa.
The Minister said generally when a war is over, soldiers get demobilised. Following the demobilisation, they go back to society and often cannot adapt themselves. This is because we cannot expect a soldier who has been trained to fight and just go back to his home simply because the war against terrorism has ended.
ďAs a country, we have successfully ended the three-decade old war against terrorism. The Government has very wisely deployed our soldiers in development work.
No military operations does not mean that the significant contribution by the war heroes to eradicate terrorism has been forgotten by the Government. All of them are looked after well and various facilities are provided to them. Itís a right move taken by the Government to deploy them in the countryís development, Dr. Amunugama said.