Religious disharmony, halal certification:
PSC to find permanent solution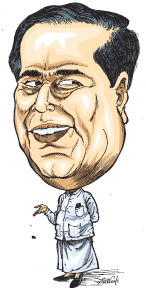 The Government will appoint a special Parliamentary Select Committee (PSC) to look into the recent spate of events that led to religious disharmony and find a permanent solution to issues that have cropped up with the halal certification.
Leader of the House and Irrigation Minister Nimal Siripala de Silva, explaining the Government's stand on the issue said, "There is no need to give Government approval for halal food certification since it is a voluntary exercise."
He said it was up to consumers to accept or reject halal food or halal certification.
The Government would not permit anyone or anybody to impose the halal certification.
The Minister said that President Mahinda Rajapaksa held meetings with Muslim Ministers and they promised to do their best to avoid extremist elements causing disturbances. He also met the Buddhist clergy to discuss ways and means of preventing Buddhists from being dragged into a political game.
The Government, rejecting a statement by the Opposition Leader in Parliament against the Halal certification invited them to participate in the proposed PSC to discuss a viable solution to the issue.
"The Leader of the Opposition who had repeatedly said to reject terrorist struggles has an alternative to participate in this PSC and prove his words by cooperating to find a solution," the Minister told Parliament.