National Dengue Prevention Week concludes on Feb13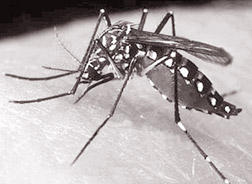 The Ministry of Health-declared National Dengue Prevention Week, which would be effective from February 6 - 13, would see many islandwide cleaning campaigns being launched for mosquito eradication and raising awareness about the issue among the public.
The cleaning of mosquito breeding places has gained added importance as the continuous rains the country has been experiencing for the past few weeks have increased the possibility of mosquito breeding.
Health Minister Maithripala Sirisena was also to seek Cabinet approval for the purchase of the BTI bacteria to spray within the Colombo municipal limits to combat the menace of dengue in the city.
During January, 2,969 suspected dengue cases had been reported to the Epidemiology Unit from across the island. Colombo district reported the highest number of cases with 685 patients while Kurunegala also reported 666 cases of dengue.
Despite efforts to contain mosquito breeding and eradicate the menace, Sri Lanka reported 44,395 cases of dengue last year, a nearly 56 percent growth from the previous year.