Lankan fishermen's ordeal in Andhra Pradesh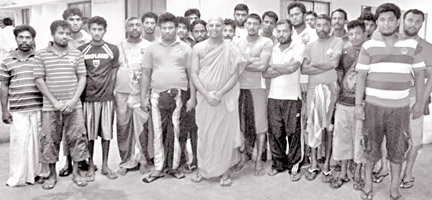 Twenty-one Sri Lankan fishermen who were arrested off the Andhra Pradesh coast, in India complain that they were treated in an inhuman manner by prison officials of the State. They were imprisoned for 14 days on a detention order and were later released by court.
They also pointed out that the Indian authorities ought to follow the Sri Lankan practice of releasing those in custody within a few days and deporting them to their respective countries.
They alleged that during their 14-day ordeal in the Andhra Pradesh prison they were served with spoilt food, one of the group, 35-year-old Udayaranga who had fallen ill after consuming putrefied rice had to be hospitalised for four days.
The fishermen set out on January 17 in four fishing crafts, 'Anushka', 'Hansika Putha' from Trincomalee and 'Assen Putha' and 'Nimara' from Matara. All of them were arrested by the Indian coastguards within 36 hours.
They alleged that the officers had assaulted them mercilessly and were told to do sanitary work.
Without money and proper clothes they sought refuge at the Chennai Maha Bodhi Society where the chief priest Ven. Kalavane Mahanama Thera took them in and looked after until they got the release order to return to Sri Lanka.