FLASHBACK:
Sidath Wettimuny 190 and Sri Lankans steal the show
Sri Lanka propped up by opener Sidath Wettimuny who made a marathon knock of 190 in the first innings total of 491 for 7 wickets declared, took the limelight away from England and won universal acclaim for their sterling batting in their inaugural Test at Lord's.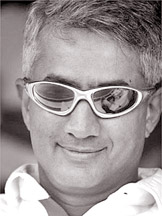 Sidath Wettimuny - the Lankan opening batsman played an innings of considerable skill and courage to make 190 in the Lankans first innings total of 491 for 7 wickets declared.
Then there was Duleep Mendis who gave Wettimuny all support and he made 111 and Arjuna Ranatunga made 84. England were dismissed for 370 in their first innings with A. Lamb making 107 and B. Broad - the opener scoring 86. Ashantha de Mel got 4 for 110 and Vinothan John 4 for 98.
Come second innings and Sri Lanka made 294 for 7 wickets at the close. Amal Silva made 102 not out in that total while Duleep Mendis got 94. Mendis missed the chance of getting to equal George Headley's record in scoring a century in both innings of a Lord's Test. He failed by 6 runs and only Wicketkeeper Silva who had never made a Test century became the third Sri Lankan with a three-figure memory to take away from the headquarters.
Botham was the England bowler who did best for the home team to take 6 for 90 in the Sri Lankan second innings.Sri Lanka's Sidath Wettimuny put himself into Wisden as one of the five cricketers of the year with his vital innings and Mendis - the Dasher, hit a hundred in much more rapid time.
	SCOREBOARD

SRI LANKA – 1ST INNINGS
Sidath Wettimuny  c Downton b Allott	       190
S.A.R. Silva lbw b Botham			08
R.S. Madugalle b Ellison			05
R.L. Dias c Lamb b Pocock			32
A. Ranatunga b Agnew				84
L.R.D. Mendis c Fowler b Pococh		       111
P.A. De Silva c Downton b Agnew			16
A.L.F. De Mel not out				20
J.R. Ratnayake Not out				05
Extras						20
Total (for 7 wkts dec)			       491

Fall of wickets: 1-17, 2-43, 3-144, 4-292, 5-442
		 6-456, 7-464
Bowling: J Agnew 30-3-123-2
	 I.T. Botham 29-6-114-1
 	 R. Ellison 28-6-70-1
	 P. Pocock 41-17-75-2
	 P. Allott 36-2-89-1

ENGLAND – 1ST INNINGS
G. Fowler c Madugalle b John			25
B.C. Broad c Silva b De Mel			86
C.J. Tavare c Ranatunga b D.S. De Silva		14
D.I. Gower c Silva b De Mel			55
A.J. Lamb c Dias b John			       107
I.T. Botham c Sub (Vanhagt) b John		06
R.M. Ellison c Ratnayake b D. S. de Silva	41
P.R. Downton c Dias b De Mel			10
P.J. Allott b De Mel				00
P.I. Pocock c Silva b John			02
J.P. Agnew not out				01
Extras:						23
Total					       370

Fall of wickets: 1-49, 2-105, 3-190, 4-210, 5-216
		 6-305, 7-354, 8-355, 9-369
Bowling: A.L.F. De Mel 37-10-110-4
	 V. John 39-1 -12-98-4
	 J.R. Ratnayake 22-5-50-0
	 D.S. De Silva 45-16-85-2
	 A. Ranatunga 1-1-0-0
	 R. Madugalle 3-0-4-0

SRI LANKA – 2ND INNINGS
Sidath Wettimuny c Gower b Botham		13
Amal Silva not out 			       102
Ranjan Madugalle b Botham			03
Roy Dias lbw b Botham				38
Arjuna Ranatunga lbw b Botham			00
Aravinda de Silva c Downton b Pocock		03
Duleep Mendis c Fowler b Botham			94
Ashantha de Mel c Ellison b Botham		14
Ravi Ratnayake not out				07
Extras						20
Total (for 7 wkts)			       294
Bowling: J. Agnew 11-3-54-0
	 I.T. Botham 27-6-90-6
	 R.M. Ellison 7-0-36-0
	 P.I. Pocock 29-10-78-1
	 P. Allott 1-0-2-0
	 A.J. Lamb 1-0-6-0
	 C.J. Tavare 3-3-0-0
	 G. Fowler 1-0-8-0